Thanks in advance for reading this article. I appreciate your interest and hope you get a few good ideas. Please write me a little COMMENT below. Start a conversation. Tell me what you think, and I'll reply. Promise.
=========================================================
Don't look now, but your next last minute party can happen any time.
When should you expect the next one?  Every day.  Really.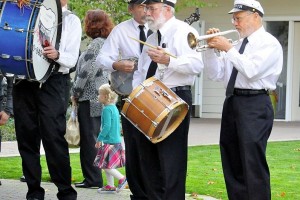 I'm entertaining in last minute events all the time.
Here I am, playing cornet in a friend's New Orleans style brass band back in November 2010.  Our music helped create a "celebration of life" for a memorial ceremony in Menlo Park.
Obviously, this was a last minute event, and my friend Bruce Deal took some wonderful photos.
Meanwhile, what can you do whenever a sudden event calls for a celebration?  You gather some friends to mark the occasion —  with food, drinks, and music.
For example, you find a little extra money in the current budget?  What a surprise — how nice!  Why, throw a party and invite your friends!
Every day I'm helping people plan their parties, especially the events' music.  I recently wrote about how to plan music for a wedding, and planning music for an office holiday party.
In my experience, I've found the basics of planning music for a last minute party are essentially the same as for every party.  Naturally some time-related aspects become more crucial, but every well-planned event begins with asking what's the purpose of the party?
This leads directly to asking who the guests will be and what they'll need to get into the proper mood.  From this answer come all the details you'll assemble.
Everything counts: who's participating, the location, food and drinks, decor, flowers, lighting, and music — everything helps create the atmosphere you want.
Of course, some events — like weddings, birthdays, and anniversaries — come as no surprise, and are often planned long in advance.
However other events — like casual cocktail parties, picnics, and dinners — are just as likely to be spur-of-the-moment affairs, prompted by a surprise visit, an unexpected award, or even the death of a loved one.
Want more suggestions for music at a last minute party?
CLICK here to tweet this post, and join our Magnolia Jazz Band fans on Facebook.  You'll receive daily tips for planning wedding and party music, and you'll get reminders for our public events.
Thanks for reading this article. I appreciate your interest and hope you get a few good ideas here. Write me a COMMENT below. Start a conversation -- I'll reply.
Does a friend need help selecting wedding or party music? Do them a favor: EMAIL this article, or SHARE it on Facebook, LinkedIn, or Google+.
And if you find my blog useful, please LIKE it, TWEET it, and SUBSCRIBE for more ideas. Use those cute little icons below.
Meanwhile, the Magnolia Jazz Band entertains at weddings and parties throughout the San Francisco Bay Area. If you are ever nearby, you'll love catching us in action, seeing and hearing us create a great mood.
How can I help you? Call 408-245-9120 or use Robbie@MagnoliaJazz.com. Planning a celebration? Ask about our availability.
If you like this post...