Thanks in advance for reading this article. I appreciate your interest and hope you get a few good ideas. I'd love to hear what you liked. Please write me a little COMMENT below. Start a conversation. Tell me what you think, and I'll reply. Promise.
=========================================================
There's beautiful weather outside.  Are you planning a garden party?
What about your music?
In several important ways, selecting garden party music is just like selecting music for a wedding reception, Great Gatsby party, or a special business event.
Tell you what I mean.
Last month we entertained at Gayle and Bill's 50th wedding anniversary party.  The happy couple love New Orleans — music, food, and traditions.  So they had us play traditional New Orleans music all afternoon.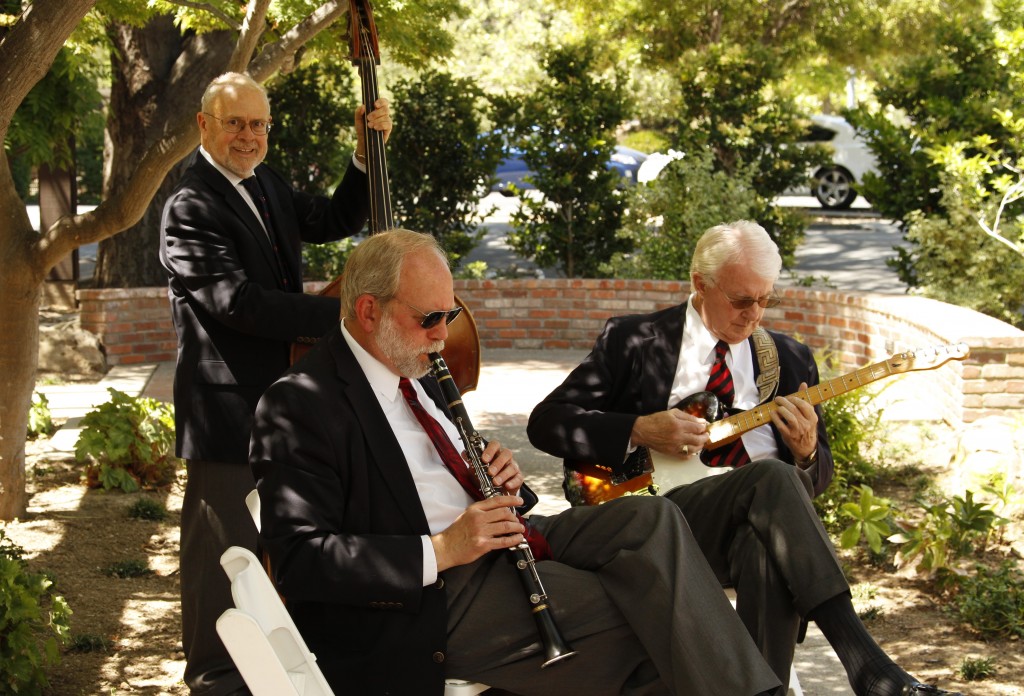 Here we are playing the first hour in the Saratoga Foothill Club's lovely garden, while their guests enjoyed New Orleans appetizers and cocktails.
Then everyone moved into the festive banquet room.  Anniversary toasts, speeches, and a great New Orleans feast followed.
Midway during the afternoon, guests we're treated to a lively half-hour program by a local New Orleans style parade band.  Toes were tapping, and everyone was "Second Lining" through the banquet room.
After that break, we resumed creating a lovely luncheon mood with everyone's favorite tunes.  
A few days later, Gayle sent me this wonderful note:
Hi Robbie–
Well, it was absolutely "an afternoon to remember" for us!  It couldn't have been more perfect — your trio added so much to the New Orleans ambiance that we wanted to create!  We had lots and lots of comments from our guests about the great music you played and what wonderful musicians you all are, and lots of people wanted to know where we "found" you!  Thank you for making the day so special for us and our friends and family.
I've written a Yelp review, and here's a photo of you playing outside in the courtyard (unfortunately, the photographer didn't get one of you inside on the stage).  If any potential client ever wants a reference, we'd be very happy to tell them what a great experience it was to work with you and to have the Magnolia Jazz Band trio play at our party–we'd do it again in a minute!
Thanks again for the wonderful memories,
Gayle and Bill

So what happened here?  And what made this garden party special?
For one thing, Gayle and Bill kept changing the scene to keep the afternoon constantly fresh and interesting.  From outside in the garden to inside the banquet room. From soft, lyrical New Orleans tunes, to speeches and toasts, to lively New Orleans parade music, back to standards and favorites.
We often entertain at garden parties like this one, where we relocate to different areas of the garden as the party progresses.  And frequently at wedding receptions and company banquets, too, we guide "traffic" by relocating from ceremony, to cocktail party, to banquet room, to dance floor.
So when you're selecting garden party music, of course you'll want to personalize your choices, perhaps coordinate with a theme, and go with selections and styles you know your guests will enjoy. 
Let me recommend another tip for selecting garden party music. Keep the afternoon interesting by occasionally relocating your music.  You can also use your music to vary the mood of your party.  Keep it interesting and your guests will enjoy a memorable time.
.
CLICK here to tweet this post, and join our Magnolia Jazz Band fans on Facebook.  You'll receive daily tips for planning wedding and party music, and you'll get reminders for our public events.
Thanks for reading this article. I appreciate your interest and hope you get a few good ideas here. Got one or two? I'd love to hear what you liked. Please write me a little COMMENT below. Start a conversation -- I'll reply. Promise.
By the way, does a friend need help selecting wedding or party music? Do them a favor: EMAIL this article, or SHARE it on Facebook, LinkedIn, or Google+.
And if you find my blog useful, please LIKE it, TWEET it, and SUBSCRIBE for more ideas. Use those cute little icons below.
Meanwhile, the Magnolia Jazz Band entertains at weddings and parties throughout the San Francisco Bay Area. If you are ever nearby, you'll love catching us in action, seeing and hearing us create a great mood.
How can I help you? Call 408-245-9120 or use Robbie@MagnoliaJazz.com. Planning a celebration? Ask about our availability.
If you like this post...