Jazz Band Wedding & Party Music
Planning to Celebrate?
Wedding? Party? Gala?
San Francisco Bay Area?
Want elegance and fun?
Confused about your music?
Busy? Want Help? Let's Talk.
It's easy to reach me right now:
Let's skip the slow "contact form".
We're right here for you now, so
please call 408-245-9120 or email 
Robbie@MagnoliaJazz.com
.Preview us here at a casual cocktail party and a sunny garden party: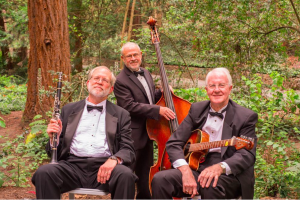 See more photos & videos of us in action on Instagram.
See our reviews on Yelp and WeddingWire. 
Preview your music at our public events.
.
Use the Magnolia Jazz Band to create the perfect mood for your party.  Busy brides and grooms, wedding coordinators, and event planners bring our upbeat music to their elegant weddings and private parties throughout the San Francisco Bay Area.

Because we've learned how to get your guests in the swing of things, everyone will enjoy an unforgettable time. They'll love your celebration plus their favorite music, including popular standards, jazz classics, and Latin favorites.
I can't wait to work with you, and as your plans develop, I'll help you plan all the details for your music.
What Mood Do You Want to Create?
Just tell me about the atmosphere you want.
Get our tips for planning your party's music,
and let our playing bring your festivities to life!
Want a Theme for Your Celebration?
Enjoy Magnolia Jazz Band wedding music and party music at your Wedding Ceremony, Wedding Reception, Formal Banquet, Concert, Fundraiser, Open House, Cocktail Party, Mardi Gras Party, Holiday Party, or Roaring 20s / Downton Abbey / Great Gatsby Party.  You can use our "search" box to find tips for all these themes.
Preview Your Wedding or Party Music?
Browse this website to hear our Music Samples and see
•  Testimonials,
•  Videos,
•  Photos,
•  Songs people request,
•  Pictures of us in action,
•  Tips for your wedding & party music,
•  Schedule of public events,
•  Event pros we recommend.
Want 5 Easy Tips for How to Use Us?

1.  Select your favorite music.
Make your next party memorable with the popular standards, jazz classics, and Latin favorites.
2.  Select songs to suit every mood:
Romantic, casual, sophisticated, upbeat, danceable — whatever you like! Your jazz band can range from an elegant strolling trio to a swinging dance combo.
3.  Customize your band.
With just a few changes, you can customize a wedding reception mood to suit every gathering.  You can add your personal touch to an intimate cocktail party, or a huge grand opening, and everything in between. 
4.  Read our testimonials.
We've been entertaining people since 1975, and we've learned that every celebration is unique in some special way.  Read the testimonials on this page, where our fans describe their most memorable musical highlights. You're sure to find some inspiring ideas for planning your own festivities. 
5.  Preview us in action.
Most of our engagements are private festivities — wedding receptions, company parties, and anniversary celebrations.  But we're not only live music for a wedding, or a great band for a party.  Each month we create a lively mood at several public events in the San Francisco Bay Area.  Click "Like" to get reminders (on Facebook) for these events.
Want More Help?  Let's Talk.
Call 408-245-9120 or email
Robbie@MagnoliaJazz.com
.
Are you a Caterer? Event Planner? Venue? Wedding Coordinator? Your clients can preview us in action. Urge them to catch our public appearances.  Enter your name & email below and click "Send Me The Next Reminder!"