Thanks in advance for reading this article. I appreciate your interest and hope you get a few good ideas. I'd love to hear what you liked. Please write me a little COMMENT below. Start a conversation. Tell me what you think, and I'll reply. Promise.
=========================================================
Last summer we entertained at a wonderful garden party in Woodside, and I used history to choose the party's music.
Can you guess what era I focused on?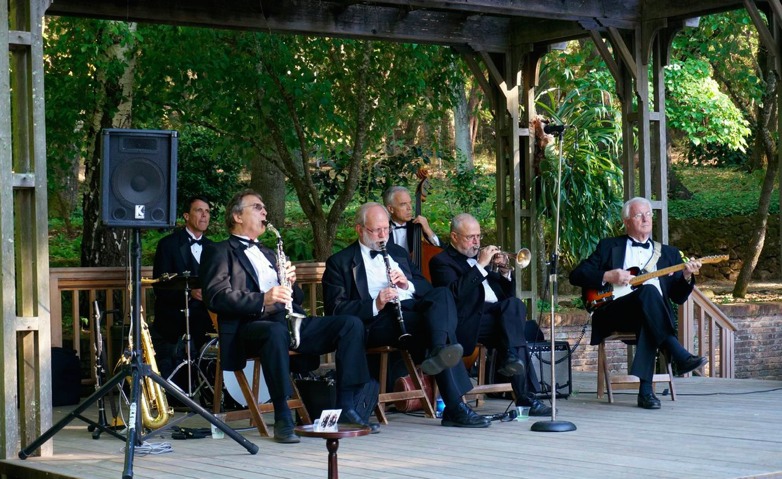 Choosing the right music for a party or a wedding can be a challenge.  I often let history guide my selections.  
Of course, you can use many strategies to search for a party's music.  You can research Broadway shows, movies, flowers, Disney characters, colors, locations, people, food, literature, animals, to name a few.
But whenever you choose party music, and it suits the party's theme, you might find using history very helpful, too.
How?  Why?  More in a minute.  First, some background:
The San Francisco Bay Area boasts hundreds of very elegant mansions built around a hundred years ago.  The area's wealthiest businessmen built gorgeous homes and summer homes.
Rich and elaborate, enormous and opulent.  These homes allowed a lifestyle where pleasure and entertaining were essential social and business functions.
(By the way, there must have been successful women in business, right?  But I haven't heard about them.  Somebody please tell me about them and the homes they built.)
Well nowadays many of these mansions, and their estates, are preserved as historic treasures.  They serve a great many worthwhile social purposes, including hosting banquets, weddings, charity fund-raisers, and other special events.
Last summer's party was hosted by "Filoli", one of the most beautiful of  these mansions.  Thanks to my friend Nancy Patten, for all these wonderful photos.
"Step Back in Time" was the theme of this Downton Abbey / Great Gatsby / Roaring 20s party.  We performed on a bandstand on the tennis court, and our vintage music helped create the perfect mood for this garden party.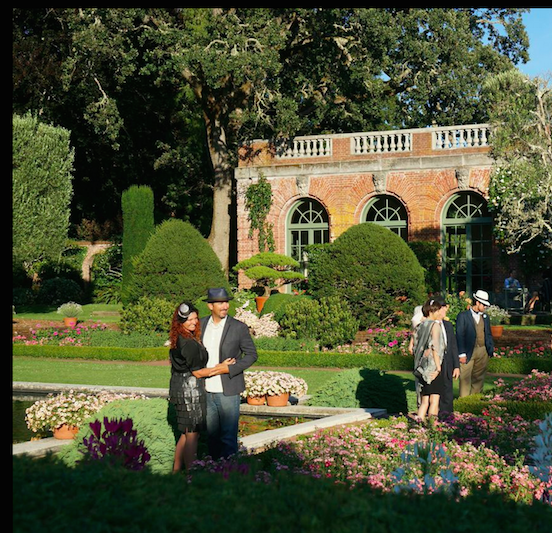 Many of the guests wore stunning period dress, and created a dazzling picture as they strolled through the mansion and the gardens. 
Eventually they came to our bandstand for light refreshments, some dancing, and an elegant musical background for their conversations.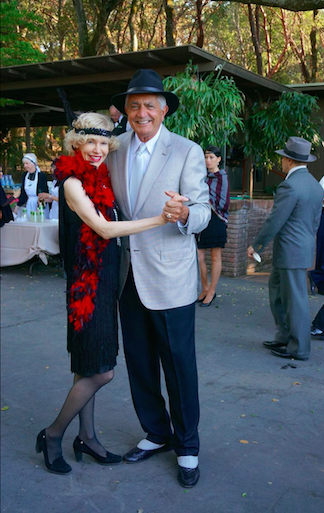 Looking out over the crowd, I tried to imagine what music the guests might have heard at a similar party during the "Jazz Age" about a hundred years ago.  Except for our microphone and amps, the band might have been identical — same instruments, tuxedos, and facial hair.  So I'm glad I'd done a little research several weeks earlier.
I'd spent a few happy hours at the library and searching through my own books, CD's, and records (remember LP's?  how about 78's?).  And I found a wealth of great historical information on the internet.  Searching Google, of course, and also YouTube and iTunes.  Even a bit on Pinterest.
I was looking for the most popular songs of the 1920's, and enough details about these songs to make an interesting, entertaining program.  Songs the guests would recognize and enjoy hearing and dancing to.
I'm happy to report the party, and our music, was a huge success.  
So let me give you a tip for your next celebration:
When it suits the theme, use history to choose party music.  Occasionally history will be the essential aspect of the party.  And if not, searching history will always contribute features to make your festivities memorable.
CLICK here to tweet this post, and join our Magnolia Jazz Band fans on Facebook.  You'll receive daily tips for planning wedding and party music, and you'll get reminders for our public events.
Thanks for reading this article. I appreciate your interest and hope you get a few good ideas here. Got one or two? I'd love to hear what you liked. Please write me a little COMMENT below. Start a conversation -- I'll reply. Promise.
By the way, does a friend need help selecting wedding or party music? Do them a favor: EMAIL this article, or SHARE it on Facebook, LinkedIn, or Google+.
And if you find my blog useful, please LIKE it, TWEET it, and SUBSCRIBE for more ideas. Use those cute little icons below.
Meanwhile, the Magnolia Jazz Band entertains at weddings and parties throughout the San Francisco Bay Area. If you are ever nearby, you'll love catching us in action, seeing and hearing us create a great mood.
How can I help you? Call 408-245-9120 or use Robbie@MagnoliaJazz.com. Planning a celebration? Ask about our availability.
If you like this post...