Thanks in advance for reading this article. I appreciate your interest and hope you get a few good ideas. I'd love to hear what you liked. Please write me a little COMMENT below. Start a conversation. Tell me what you think, and I'll reply. Promise.
=========================================================
An office holiday party shares important features with other special events. If you've ever planned music for a Valentine's Day party, a Fourth of July party, a Halloween party, or even a wedding, you'll recognize what I mean.  In a moment, you'll see that the basics of planning music for an office holiday party are essentially the same as for all the others.
I recently blogged about how to plan music for a wedding, and many of those guidelines and suggestions apply to an office holiday party, as well.  From the arrival of your first guest, to the final "clean-up", your music helps set the atmosphere you want.  As much as the location, food, decor, flowers, lighting, and all the other features in your office holiday party, your music creates the mood and keeps it going.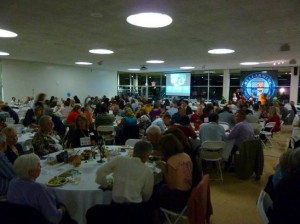 Not just at office holiday parties, of course.  The same applies to elegant cocktail parties, formal banquets, lively picnics, and casual dinners.  For example, here we are at an informal benefit dinner party in San Jose earlier this month (way in the back, far right).  In this case, our music had to create a comfortable background — songs familiar enough to keep toes tapping, and soft enough to encourage conversations without intruding.  Thanks for your wonderful photos, David Bednoe.
An office holiday party can occur at any time, not just in December.  It might celebrate a grand opening (brand new or renovated headquarters), or a significant landmark (the millionth product sold), or just an informal get-together mid-year or at the year's end.  It's a "holiday" whenever you take time out to celebrate something.
Whatever the occasion your office holiday party celebrates, you can use music to customize the festivities according to your theme.  It's a handy technique for drawing everything together.  Can you imagine a Mardi Gras party without New Orleans jazz, a Roaring 20's party without "The Charleston", or an Xmas party without everyone's favorite holiday songs?  In addition, you can include special music for the party's highlights.  For example, use elegant music for a fashion show, use fanfares and drum-rolls to introduced the featured speaker, or use upbeat music for "walk-ons" at an awards ceremony.
Ask me for more suggestions.  Every day, we help people planning music for their holiday parties throughout the San Francisco Bay Area.  If we can ever help you, please call us at 408-245-9120.
Please visit MagnoliaJazz.com for testimonials, music samples, videos, photos, and our public schedule, and catch us at an event soon.  Our next PUBLIC appearances are on Thursday, November 11, at a special "Wine and Food Tasting" dinner party, and Thursday, November 25, at the annual "Thanksgiving Feast", both at The Mountain Winery, in Saratoga.  See details for these events on our website.
In the meantime, please join our Facebook "fans", and you'll get a reminder for each of our public events.  Thanks for reading my blog.  Please take a moment to SHARE this post with a friend, SUBSCRIBE for more, and send me a nice COMMENT.
Thanks for reading this article. I appreciate your interest and hope you get a few good ideas here. Got one or two? I'd love to hear what you liked. Please write me a little COMMENT below. Start a conversation -- I'll reply. Promise.
By the way, does a friend need help selecting wedding or party music? Do them a favor: EMAIL this article, or SHARE it on Facebook, LinkedIn, or Google+.
And if you find my blog useful, please LIKE it, TWEET it, and SUBSCRIBE for more ideas. Use those cute little icons below.
Meanwhile, the Magnolia Jazz Band entertains at weddings and parties throughout the San Francisco Bay Area. If you are ever nearby, you'll love catching us in action, seeing and hearing us create a great mood.
How can I help you? Call 408-245-9120 or use Robbie@MagnoliaJazz.com. Planning a celebration? Ask about our availability.
If you like this post...