Thanks in advance for reading this article. I appreciate your interest and hope you get a few good ideas. I'd love to hear what you liked. Please write me a little COMMENT below. Start a conversation. Tell me what you think, and I'll reply. Promise.
=========================================================
Planning wedding music invites questions.  "Should I have music at my ceremony?  Or my reception?  If so, what kind is best?  And what are the best ways to include music in my wedding celebration?"
You may decide to design and orchestrate your wedding yourself.  Or you may prefer to have a wedding coordinator arrange all the elaborate details.
Either way, if you'll ask a few simple questions about planning wedding music, you'll find the best answers to suit your own tastes and preferences.
Let me explain.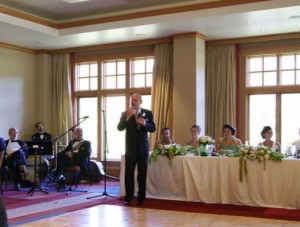 Helping people plan wedding and party music is the Magnolia Jazz Band's specialty.  Here we are  back in August, 2010, standing by as the bride's father toasts the newlyweds.  It was a lovely wedding ceremony at the CordeValle Golf Club, and we're preparing to swing into action.  Thank you to Pei Ketron for taking this wonderful photo.
In my experience, this advice has always been true:  Planning the right wedding music for the right time makes your celebration memorable.
Music helps your guests get in the proper mood, helps your event flow smoothly, and provides your guests many of your affair's essential features — ambiance, special landmarks, and the enjoyment of listening and dancing with friends.
Now, whatever makes the wedding music "right" is unique to you.  Over the years I've helped imaginative brides and grooms create dozens of ways to use music.  Let me give you a few ideas I see often, and you can add your own touches.
–  Set a welcoming mood before your ceremony, as your guests arrive.
–  Include a soloist or small ensemble during your ceremony.
–  Create a festive mood following your ceremony.
–  Play "fanfares" to announce your introductions and toasts.
–  Provide a soft background during your luncheon or dinner.
–  Play your most favorite tune for your First Dance.
–  Play sentimental favorites for your Father/Daughter and Mother/Son dances.
–  Play a special festive dance song for members of your wedding party.
–  Create a special mood for your landmarks, like cutting the cake and tossing the bride's bouquet.
–  Play specialty music, for example for ethnic songs and dances.
–  End the party with another favorite song, as your Last Dance.
To make planning your wedding music even more interesting, consider using several styles.  Consider a different style for your ceremony, for the background ambience, and for the dancing.  Mix it up.
Now the fun begins:  Every style of music you can imagine has several pros and cons you'll need to balance.  Consider the variety of live music available.  You can have a soloist or a small ensemble playing Top 40 and rock & roll, classical chamber music, New Orleans style or big Band favorites, or American bluegrass and country music.
In addition you can include ethnic music from South and Central America, Asia, Africa, or Europe.  Whew!  Or you can have a DJ present any of these and more.
Whenever you work with musicians, you should call months ahead, to discuss thoroughly all the details you'll need to coordinate.  Whether you engage your musicians directly or through an agency, you should verify their credentials, develop a comfortable feeling of trust in their professionalism, and insist on a thorough contract.  Experienced musicians know the "ground rules" and the essential details you must prepare in advance.
Ask these professionals for recommendations on how to use their services.  This last point is crucial, and one people too often learn the hard way.  
So here's a tip:  When you plan wedding music or party music, speak with your musicians ahead of time.  Talk about everything, and arrange all the details for fitting the music into your celebration.
CLICK here to tweet this post, and join our Magnolia Jazz Band fans on Facebook.  You'll receive daily tips for planning wedding and party music, and you'll get reminders for our public events.
Thanks for reading this article. I appreciate your interest and hope you get a few good ideas here. Got one or two? I'd love to hear what you liked. Please write me a little COMMENT below. Start a conversation -- I'll reply. Promise.
By the way, does a friend need help selecting wedding or party music? Do them a favor: EMAIL this article, or SHARE it on Facebook, LinkedIn, or Google+.
And if you find my blog useful, please LIKE it, TWEET it, and SUBSCRIBE for more ideas. Use those cute little icons below.
Meanwhile, the Magnolia Jazz Band entertains at weddings and parties throughout the San Francisco Bay Area. If you are ever nearby, you'll love catching us in action, seeing and hearing us create a great mood.
How can I help you? Call 408-245-9120 or use Robbie@MagnoliaJazz.com. Planning a celebration? Ask about our availability.
If you like this post...