Thanks in advance for reading this article. I appreciate your interest and hope you get a few good ideas. I'd love to hear what you liked. Please write me a little COMMENT below. Start a conversation. Tell me what you think, and I'll reply. Promise.
=========================================================
I'm always helping people preparing wedding music.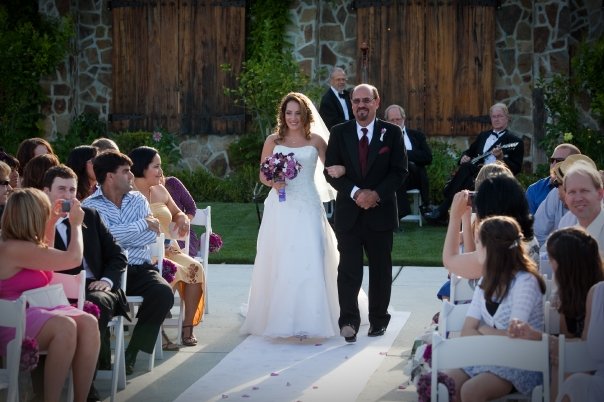 Here we are entertaining at a lovely wedding ceremony in Sonoma back in 2009.  Congrats Kim and Chris!
I think about wedding and party music often, but not always.
For example, I just asked a professional tax preparer about possible changes to the IRS. And this expert advised me, in her opinion of course, that the tax code is unlikely to get simpler.  When did the IRS, or Congress for that matter, ever make anything simpler?
Good point!
Originally my thought was spurred by the daily news reports of political revolutions overseas.  It's as though people around the world are connecting on the internet, learning about life in more prosperous democratic nations, and overthrowing the governments that keep them subjugated.
Is this explanation too simple?
Anyway, I'm wondering if our own taxpayers will stage their own revolt against Congress and the IRS.  People who pay for our government's services want a tax system that's fair, easy to use, and delivers what it promises, don't they?  No more, no less, right?
So this veteran tax preparer just gave me disappointing news. I hope she's wrong, I think.  I'd like to see the current complexity simplified, even though changing the IRS code will create unexpected consequences, guaranteed.
Well, how bad can they be?
Thank goodness preparing wedding music can be so much simpler.
No complex regulations to administer and follow,
No complex calculations, record-keeping, and forms to complete and submit,
No temptation to procrastinate to the last minute,
No worrying about facing a threatening audit up to 3 years later,
No worrying about an expensive penalty for being wrong in any of a dozen ways.
Just find answers to some simple, straightforward questions, like
What's my favorite music? — songs, styles, artists, instruments, etc,
Which highlights in my wedding day need music? — pre-ceremony, ceremony, cocktails, luncheon or dinner, cake-cutting, dancing, farewell, etc,
What mood do I want the music to create at each highlight?
What musical aspects do I want my guests to remember?
What are my options for finding the music I want?
What recommendations do I receive? — from family, friends, caterers and facilities, professional planners and coordinators, musicians, etc,
You'll find additional questions in other articles I've posted here.
So much for the differences.  Now, how is preparing wedding music like preparing your tax return?
Just one way I can think of:
With thoughtful preparation, and systematic effort, it's easy to do a good job well.
This is a valuable tip, believe me.
CLICK here to tweet this post, and join our Magnolia Jazz Band fans on Facebook.  You'll receive daily tips for planning wedding and party music, and you'll get reminders for our public events.
Thanks for reading this article. I appreciate your interest and hope you get a few good ideas here. Got one or two? I'd love to hear what you liked. Please write me a little COMMENT below. Start a conversation -- I'll reply. Promise.
By the way, does a friend need help selecting wedding or party music? Do them a favor: EMAIL this article, or SHARE it on Facebook, LinkedIn, or Google+.
And if you find my blog useful, please LIKE it, TWEET it, and SUBSCRIBE for more ideas. Use those cute little icons below.
Meanwhile, the Magnolia Jazz Band entertains at weddings and parties throughout the San Francisco Bay Area. If you are ever nearby, you'll love catching us in action, seeing and hearing us create a great mood.
How can I help you? Call 408-245-9120 or use Robbie@MagnoliaJazz.com. Planning a celebration? Ask about our availability.
If you like this post...