Thanks in advance for reading this article. I appreciate your interest and hope you get a few good ideas. I'd love to hear what you liked. Please write me a little COMMENT below. Start a conversation. Tell me what you think, and I'll reply. Promise.
=========================================================
Are you selecting wedding music or party music right now?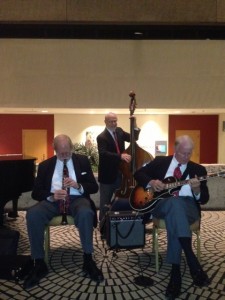 Recently we created a soft, upbeat background for a business reception in the lobby of San Francisco's Grand Hyatt Hotel.  Our job was making their good conversations easy and enjoyable.
Here we are at a quiet moment.  Thanks for the photo, Melanie and Pamela.
Three years ago we entertained at Pamela's wedding. It was a very different atmosphere, but she easily chose the right music each time.  You can, too.
I write and talk about selecting wedding music and party music all the time.  It SHOULD be easy and fun.  Sure, you'll need to make many decisions, but be systematic.  Take the time to be sure the music fits in perfectly.
The following suggestions come from our experience. Playing nearly every day since January 1975, we've helped make thousands of special events memorable.
This is certainly not a complete list.  Just some of the tips I hear myself offering most often.
Selecting wedding music and party music is simple — just ask yourself the right questions. They'll help you quickly find exactly what you want.  Be systematic.  For example,
1. No matter what styles of music you're considering, ask yourself first about the atmosphere you want to create.
• Picture the overall mood you want for your guests. Formal, elegant, and sophisticated? Casual and mellow? Upbeat and rousing? Soft background for conversations?
• Want a unifying theme for your event? Keep this image in mind as you select your music. Be sure you share your vision with everyone helping you plan. Be specific.
• And don't plan just visually. What do you want your party to sound like?
• Now, whether your heart's set on one favorite musical style, or if you're open to a few different styles — for example, jazz, classical, top 40s, R&B, disco, mariachi, or country — examine what's available.
2. Ask for recommendations:
• Friends and Colleagues
• Wedding Professionals (musicians, wedding coordinators, facilities, photographers, caterers, florists, decorators)
• Wedding Magazines and Entertainment Agencies
• Local Entertainment Listings (internet, newspapers, radio)
3. Contact possible bands.  It's way more than just asking "What's your fee?".  Focus on how they'll make your celebration exactly what you want.
4. Here are a few more points to check:
• Speak with the musician who'll actually lead your band.
• Develop a comfortable rapport — be sure the "chemistry" is right.
• Check their experience. Get references.
• Request a tune list, check their website for music samples, and perhaps their CD.
• Arrange to hear a live performance whenever possible.
• Other practical issues: ? Can they act as MC? ? Provide a PA system? ? Provide music during their breaks? ? Additional fees for travel or overtime?
Finally, thank goodness you can choose from dozens of popular musical styles, from either a recording or a living, breathing musician.
The Magnolia Jazz Band specializes in entertaining people with the popular standards, jazz classics, and Latin favorites. Ranging from a strolling trio to a swinging sextet, we've got what it takes to jazz up hundreds of parties every year.
So here's a suggestion to help you select wedding music or party music.   Ask lots of questions and search systematically.  You'll get the right music to make your festivities perfect!
CLICK here to tweet this post and join our Magnolia Jazz Band fans on Facebook.  You'll receive daily tips for planning wedding and party music, and you'll get reminders for our public events.
Thanks for reading this article. I appreciate your interest and hope you get a few good ideas here. Got one or two? I'd love to hear what you liked. Please write me a little COMMENT below. Start a conversation -- I'll reply. Promise.
By the way, does a friend need help selecting wedding or party music? Do them a favor: EMAIL this article, or SHARE it on Facebook, LinkedIn, or Google+.
And if you find my blog useful, please LIKE it, TWEET it, and SUBSCRIBE for more ideas. Use those cute little icons below.
Meanwhile, the Magnolia Jazz Band entertains at weddings and parties throughout the San Francisco Bay Area. If you are ever nearby, you'll love catching us in action, seeing and hearing us create a great mood.
How can I help you? Call 408-245-9120 or use Robbie@MagnoliaJazz.com. Planning a celebration? Ask about our availability.
If you like this post...