Thanks in advance for reading this article. I appreciate your interest and hope you get a few good ideas. I'd love to hear what you liked. Please write me a little COMMENT below. Start a conversation. Tell me what you think, and I'll reply. Promise.
=========================================================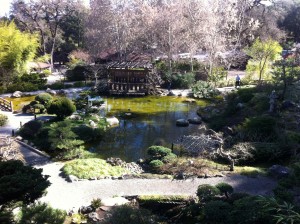 People who plan party music  (or wedding music) and people who landscape a garden make many similar decisions.
About different subjects, of course, but both processes are remarkably alike.  More in a minute.
Do you love a garden.  Your own, perhaps?
I'm devoted to arranging and maintaining my own garden.  Gardening brings me great satisfaction, for many reasons, which I wrote about last year.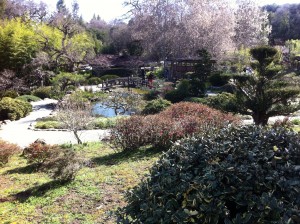 Why am I thinking about gardening?
This morning I followed a newspaper ad to the local Convention Center, to attend a "Spring Home and Landscape Show".  I love garden showcases, but this one was disappointing.
One or two puny garden displays, but lots of people offering solar installations, kitchen & bathroom remodels, barbecue grills, replacement windows, and all the rest.
Guess I was misinformed.  What a  frustrating 30 minutes!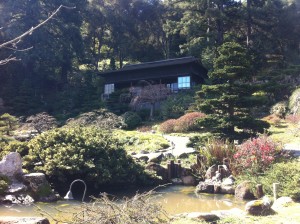 By now I really wanted to see some inspiring garden displays, so on the way home I visited one of my all-time favorites, Hakone Gardens, in Saratoga.
Established in 1917, Hakone is the oldest Japanese Estate Garden in the Western Hemisphere.  Their brochure states, "In all Japanese gardens, the harmonious placement of plants, stones, and water are its essence, offering serene beauty in all seasons."
The garden is lovely today — see these photos.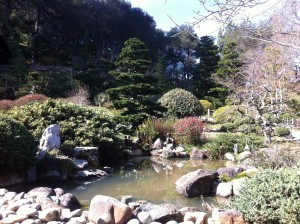 Now, in the very early springtime, buds and shoots are just beginning to emerge.  A sure sign of dramatic growth on the way.
Dramatic changes also accompany planning a party.  Or a wedding.  We begin with the wisp of a dream, and end with a full celebration.
I help people plan party music nearly every day.  Especially in the early planning stages, people typically focus on one or two details.  Or just a few landmarks.
Most of the time, I find myself reminding these people to step back and consider the grand vision.  What are they aiming for?  How will they fit all the parts together?
Will they arrange their "harmonious placement" of the music with all the other elements of their party — the beginning and ending highlights, schedule, food, decor, and special landmarks (like toasts, dances, photography, and special presentations).
Like all the elements in the best gardens, all the components of a party should enhance each other.  Their associations should make sense logically, emotionally, and aesthetically.
Do you plan party music?  I'm always looking for a good tip.  What's your favorite?
So here is one of my favorite tips for helping you plan party music.  Or wedding music.  Of course you'll want to include your favorite songs, but pay attention to how your music will enhance all the other elements of your party.
CLICK here to tweet this post and join our Magnolia Jazz Band fans on Facebook.  You'll receive daily tips for planning wedding and party music, and you'll get reminders for our public events.
Thanks for reading this article. I appreciate your interest and hope you get a few good ideas here. Got one or two? I'd love to hear what you liked. Please write me a little COMMENT below. Start a conversation -- I'll reply. Promise.
By the way, does a friend need help selecting wedding or party music? Do them a favor: EMAIL this article, or SHARE it on Facebook, LinkedIn, or Google+.
And if you find my blog useful, please LIKE it, TWEET it, and SUBSCRIBE for more ideas. Use those cute little icons below.
Meanwhile, the Magnolia Jazz Band entertains at weddings and parties throughout the San Francisco Bay Area. If you are ever nearby, you'll love catching us in action, seeing and hearing us create a great mood.
How can I help you? Call 408-245-9120 or use Robbie@MagnoliaJazz.com. Planning a celebration? Ask about our availability.
If you like this post...