Thanks in advance for reading this article. I appreciate your interest and hope you get a few good ideas. I'd love to hear what you liked. Please write me a little COMMENT below. Start a conversation. Tell me what you think, and I'll reply. Promise.
=========================================================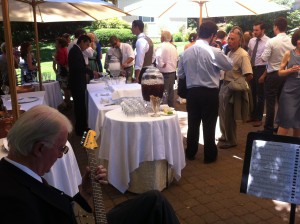 People always ask me for wedding music ideas.  Same with questions about party music ideas.
And I should know!  I've been entertaining at these special events in the San Francisco Bay Area since 1975.
Here are two iPhone views from my spot in the back of the band at a recent cocktail party.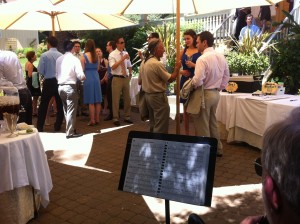 So when people ask for wedding music ideas, I always reply "What songs do you love?"
I've found this question sets us in the right direction for great wedding music ideas.  Try it yourself sometime.
Let me illustrate this with a story.  It might seem off-topic at first, but please stay with me:
Sidney Bechet was the first New Orleans musician I remember hearing.  He played the "Jelly Roll Blues" — just one tune on a small 10″ LP of early jazz my father gave me.  I think it was my very first record, and I loved it.
I was fourteen years old, and too green to recognize Bechet's virtuoso technique.  But his glorious tone thrilled me.  What feeling!  He shouted and wailed just like the rhythm & blues musicians I heard on the radio.  They were New Orleans men, too.
I was playing cornet in the high school band.  John Philip Sousa.  Rogers and Hammerstein.  I began playing my parts with lots of feeling — with a warm, rasping tone and a rapid vibrato, wide as a house.
It sounded good to me.  I'm sure I sounded bizarre and corny to my pals, who idolized the well-known beboppers of the day.
But I liked it.  I enjoyed imitating someone I admired.  Whose example helped inspire my love of music.
Bechet opened a window for me to hear jazz music.  I think I've always listened to jazz in terms of his first impression on me.  He helped set my standards for listening to all musical styles.
Here's where I'm going with this.  I've always been glad I learned early on to play with emotion.  My passion for playing with feeling is serving me well these days.
These days I help people enjoy their special events — weddings, parties, and all sorts of celebrations.  I play music that "gets to their heart".  Makes them feel good, glad to be there, enjoying whatever they're doing.
Now, there may be many ways that music can accomplish all this.  But in my experience, nothing is more effective than music filled with feeling.
Of course, musical technique and other related aspects (like stagecraft) are important, too.  But I've learned that the people we play for always respond to the emotion, the passion driving the music.
When we entertain people, we'll dig into some tunes we know they absolutely love.  We'll give these tunes all the feeling we can muster.  Without fail, the music is a great hit — setting the perfect mood for the festivities.
So here's a tip.  Whenever I help people search for wedding music ideas or party music ideas, I always urge them to start with some of their own favorite songs.  And be sure the musicians play with passion.

CLICK here to tweet this post and join our Magnolia Jazz Band fans on Facebook.  You'll receive daily tips for planning wedding and party music, and you'll get reminders for our public events.
Thanks for reading this article. I appreciate your interest and hope you get a few good ideas here. Got one or two? I'd love to hear what you liked. Please write me a little COMMENT below. Start a conversation -- I'll reply. Promise.
By the way, does a friend need help selecting wedding or party music? Do them a favor: EMAIL this article, or SHARE it on Facebook, LinkedIn, or Google+.
And if you find my blog useful, please LIKE it, TWEET it, and SUBSCRIBE for more ideas. Use those cute little icons below.
Meanwhile, the Magnolia Jazz Band entertains at weddings and parties throughout the San Francisco Bay Area. If you are ever nearby, you'll love catching us in action, seeing and hearing us create a great mood.
How can I help you? Call 408-245-9120 or use Robbie@MagnoliaJazz.com. Planning a celebration? Ask about our availability.
If you like this post...