Thanks in advance for reading this article. I appreciate your interest and hope you get a few good ideas. I'd love to hear what you liked. Please write me a little COMMENT below. Start a conversation. Tell me what you think, and I'll reply. Promise.
=========================================================
Is the time to plan party music a time of crisis?
How about when you plan wedding music?
NO!  Definitely not!  These ought to be times of fun and excitement.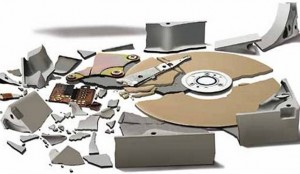 THIS PICTURE, however, shows a real time of crisis:
I'll talk about how I plan party music in a moment.  But first:
All together now, "Gaaah!"
A computer catastrophe!  A digital disaster!  Thanks for this ghastly picture, Cadecam.com.
My desktop computer's hard drive crashed a few days ago.  OY!
Thank goodness TimeMachine was backing everything up on an external drive.
The local Apple Store installed a new hard drive, and I've managed to restore all my data.  Except email.
My stupid error — don't ask.
Years of my saved email is totally lost (sob!), except for the last 1000 messages still on my iPhone.
Have you ever experienced a computer catastrophe like this?  How did you live through your digital disaster?
Thank goodness, over the years I've saved copies of valuable information.  Important receipts, agreements, certificates, addresses, articles.  I don't remember when I developed the habit, but it's a lifesaver now.
For example I'm finding tons of emailed notes and pdf's in my Dropbox.  Lots of frequently used email addresses in my Address Book.
So now I'm re-establishing my email archive in Apple Mail.  Tedious work, but it's coming together nicely.
I began by selecting a few of my most important email categories.  Now I'm creating mailboxes for their significant details, and filling these mailboxes with the data I'm salvaging.  And as time goes on, I plan to add new emails and reorganize the categories as necessary.
For example, my email categories will probably include "Magnolia Jazz Band", "Personal Messages", "Marketing", and "Social Media".  Details for the Magnolia Jazz Band category will probably include "Prospects", "Future Dates", "Past Dates", and "Musicians".
Here's where I'm going with this.  As I assemble my email archive, I'm realizing how much this process resembles how people can plan party music.  Or plan wedding music.
So here's a tip to help you plan party music or wedding music.  Start with the basics of your celebration, and focus on "Landmarks" instead of "Categories".
For example, I like to help a bride-to-be planning for wedding landmarks like "Ceremony Music, "First Dance", and "Last Dance".  Or a company event planner preparing music for annual banquet landmarks like "Announcements", "Toasts", and "Awards".
Helping people plan party music and wedding music is something I do nearly every day.  People reserve my band to entertain at their celebrations.  And as the date approaches, I'm happy to help them plan their music.
Believe me, the process is a lot more pleasant than trying to retrieve lost email.
CLICK here to tweet this post and join our Magnolia Jazz Band fans on Facebook.  You'll receive daily tips for planning wedding and party music, and you'll get reminders for our public events.


Thanks for reading this article. I appreciate your interest and hope you get a few good ideas here. Got one or two? I'd love to hear what you liked. Please write me a little COMMENT below. Start a conversation -- I'll reply. Promise.

By the way, does a friend need help selecting wedding or party music? Do them a favor: EMAIL this article, or SHARE it on Facebook, LinkedIn, or Google+.

And if you find my blog useful, please LIKE it, TWEET it, and SUBSCRIBE for more ideas. Use those cute little icons below.

Meanwhile, the Magnolia Jazz Band entertains at weddings and parties throughout the San Francisco Bay Area. If you are ever nearby, you'll love catching us in action, seeing and hearing us create a great mood.

How can I help you? Call 408-245-9120 or use Robbie@MagnoliaJazz.com. Planning a celebration? Ask about our availability.


If you like this post...