Thanks in advance for reading this article. I appreciate your interest and hope you get a few good ideas. I'd love to hear what you liked. Please write me a little COMMENT below. Start a conversation. Tell me what you think, and I'll reply. Promise.
=========================================================
Planning music for a wedding or a party?  Think about planning the entire event.
You won't do the entire event, of course, but thinking systematically about planning an event will help you focus down to one aspect at a time.  Like the music, and how it will fit in with everything else.
Now, what are some main landmarks for planning an event?  
Lots of them.  Here's one of the easiest: Begin your planning carefully by asking for professional advice.
For example, as you plan your party's music, remember to ask the musicians you interview for their recommendations.  They'll have good suggestions, especially if they've played successfully at hundreds of similar events.
I recently wrote about planning music for an elegant party and planning music for a wedding.  In my opinion, planning an event needn't be a hassle.  Whether your event will be straightforward and uncomplicated, or filled with complex details, words of wisdom from a few experienced pros will make your work MUCH easier.
Whatever type of event you're planning, and whatever your background as a planner, you'll find professional advice is a great help for getting started, polishing the final details, and coordinating everything in between.  And if you ever get pressed for time or resources, consider hiring a few professionals to lay their expert hands on the problem.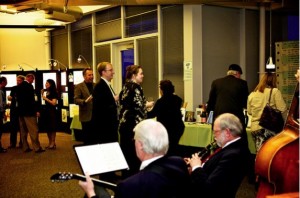 Here we are entertaining at a benefit auction & cocktail party at the Computer History Museum back in 2011.  I coordinated ahead of time with the event planner, caterer, and photographer.
Because we shared advice and suggestions, everything went smoothly and the guests enjoyed a wonderful evening.  Thanks to Edward Lin for the nice photo.
For years I've been making a living working with top hospitality professionals — including weddings and party coordinators, caterers, photographers, florists, musicians, DJ's, and rental companies.
Many of my favorite colleagues are members of Silicon Valley NACE.  They're the best of the best, and they consistently produce flawless, memorable results.
When the time is right, contact several of them.  With their experience to guide you, knowing what to do will be a snap.  Your work may be exacting and intense, but as they say, "It's not rocket science".
So here's a tip:  Question?  Ask the pros you work with.  Experienced professionals have a wealth of valuable know-how for creating exactly what you want.  They'll save you time, money, and get it right the first time. What could be better?
CLICK here to tweet this post, and join our Magnolia Jazz Band fans on Facebook.  You'll receive daily tips for planning wedding and party music, and you'll get reminders for our public events.
Thanks for reading this article. I appreciate your interest and hope you get a few good ideas here. Got one or two? I'd love to hear what you liked. Please write me a little COMMENT below. Start a conversation -- I'll reply. Promise.
By the way, does a friend need help selecting wedding or party music? Do them a favor: EMAIL this article, or SHARE it on Facebook, LinkedIn, or Google+.
And if you find my blog useful, please LIKE it, TWEET it, and SUBSCRIBE for more ideas. Use those cute little icons below.
Meanwhile, the Magnolia Jazz Band entertains at weddings and parties throughout the San Francisco Bay Area. If you are ever nearby, you'll love catching us in action, seeing and hearing us create a great mood.
How can I help you? Call 408-245-9120 or use Robbie@MagnoliaJazz.com. Planning a celebration? Ask about our availability.
If you like this post...