American Song Book, Fads, and The Popular Standards
Thanks in advance for reading this article. I appreciate your interest and hope you get a few good ideas. I'd love to hear what you liked. Please write me a little COMMENT below. Start a conversation. Tell me what you think, and I'll reply. Promise.
=========================================================
Is there an American Song Book that passes the test of time?
What collection of American songs do most people recognize immediately, and love to sing with or dance to?  Familiar, easy to learn, and a treat to hear often?
Sure!  In fact, we have lots of collections fitting this description.  Looked at more broadly, maybe it's really one big collection.  A few years ago I blogged about some of my own favorite songs: The Popular Standards.  More about that in a moment.
Name a few musical compositions you like.  Don't they share many endearing similarities of form, style, origin, or historical background?  Perhaps you enjoy remembering the first time you heard them — the circumstances, place, performer, or who you were with?
I'm sure we all love some music and have our favorites.  Next question: Will these remain favorites for your lifetime, or just a few days, or something in between?
Many musical qualities influence whether a song becomes one of our personal "instant all-time classics" or else stays at the top of your list just briefly, to be replaced by the next catchy ditty we hear.
Today's musical recording industry tries to catch us both ways.  First, by releasing a continuing torrent of short-lived "Top Hits" appealing to the fad zealots among us.  And second, by encouraging a steady flow of "revivals" of the major hits of yesteryear, appealing to the rest of us.
Of course, most of us enjoy some of both the old and the new.
Same with the musical concert industry, fashion industry, auto industry, movie industry, and TV program industry.  Like it or not, this list goes on.
Among my own favorite music is an enormous body of compositions, most of which were created by a relative small number of skilled songwriters in the early to mid 1900s.  The most successful of these songs have passed the test of time, and are now regarded as The Popular Standards.
The Magnolia Jazz Band plays many of these Popular Standards nearly every day.  Their personal appeal feels universal and timeless.  Hundreds of tunes like "Stardust", "Blue Moon", "Embraceable You", "Moon River", "Georgia On My Mind", and "Satin Doll".  Welcome to Karaoke Heaven!
"American Songbook" is the theme or title (more or less) of many recent programs of the Popular Standards recorded by Willie Nelson, Rod Stewart, Ella Fitzgerald, Michael Feinstein, and Linda Ronstadt, to name just a few well-known artists.  In addition, many music associations and recording companies have released hundreds of collections.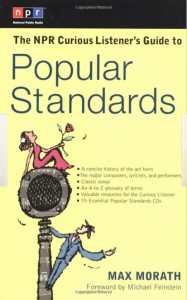 Interested to learn more?  Many books have described what makes these songs so wonderful, and one of my favorites is "Popular Standards", written by pianist and entertainer Max Morath.  A quick read, it's a fascinating introduction for musicians as well as fans.
CLICK here to tweet this post and join our Magnolia Jazz Band fans on Facebook.  You'll receive daily tips for planning wedding and party music, and you'll get reminders for our public events.


Thanks for reading this article. I appreciate your interest and hope you get a few good ideas here. Got one or two? I'd love to hear what you liked. Please write me a little COMMENT below. Start a conversation -- I'll reply. Promise.

By the way, does a friend need help selecting wedding or party music? Do them a favor: EMAIL this article, or SHARE it on Facebook, LinkedIn, or Google+.

And if you find my blog useful, please LIKE it, TWEET it, and SUBSCRIBE for more ideas. Use those cute little icons below.

Meanwhile, the Magnolia Jazz Band entertains at weddings and parties throughout the San Francisco Bay Area. If you are ever nearby, you'll love catching us in action, seeing and hearing us create a great mood.

How can I help you? Call 408-245-9120 or use Robbie@MagnoliaJazz.com. Planning a celebration? Ask about our availability.


Categories: Celebrating with Music, Planning Party Music