Thanks in advance for reading this article. I appreciate your interest and hope you get a few good ideas. I'd love to hear what you liked. Please write me a little COMMENT below. Start a conversation. Tell me what you think, and I'll reply. Promise.
=========================================================
Career Tests can reveal your aptitudes and job options.  They'll show your personal preferences and suggest suitable vocations to explore.  This is great news whenever you're dissatisfied with your career and wonder about an alternative.
"But I love my job", you say.  Congratulations!  Now think about this: career tests can help you understand your current happy situation.  Taking a few career tests can point out why you're satisfied, to help you further improve your job and like it even more!  Google can show you dozens of career tests, many of them free and online.  Try one.
For a simple example, career tests remind me that I love talking with people.  Knowing this, I'm sure to make plenty of "conversation time" a big part of my job.  See how it works?
Recent reports say about 50% of us are unsatisfied with our careers.  Life happens and our lives can always change, and so can the things we like.  Occasionally this includes our job, no matter how much we loved it when we started out.
Like it or not, we're always learning.  Is last year's list of your 10 favorite things still accurate?  If not, maybe it's time for a career change.  Or maybe just adjust the one you're with.
So how do you like your job?  Still a good match for your personality?  Mine is.  In the course of my work, I meet lots of musicians, and we often talk about our long-range goals.  Occasionally one tells me about his big dreams, saying he doesn't plan to entertain at weddings and parties all his life.
Hearing this never surprises me, but it always astonishes me.  What could be better than this?
I thought of this two nights ago, after returning home from entertaining at a particularly enjoyable dance party.  Lots of "senior citizens" had a great time singing and dancing to some of their old favorites, and the musicians had a great time, too.
Yesterday evening the trio created a lively, elegant background for a formal company reception at a local museum.   The mood was different, as was our repertoire, and 200 business associates enjoyed a wonderful evening.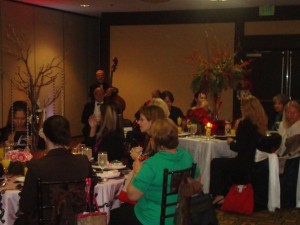 I'm so lucky:  I get to do this sort of thing nearly every day.  It's all about serving, and since 1975 I've been making a living providing music for weddings and parties.  There's no job dissatisfaction here!
Here's a picture of the trio entertaining at a local luncheon for the ACPWC, a national association of wedding coordinators.  Thanks to Amy Frugoli for this wonderful, casual photo.
CLICK here to tweet this post, and join our Magnolia Jazz Band fans on Facebook.  You'll receive daily tips for planning wedding and party music, and you'll get reminders for our public events.
Thanks for reading this article. I appreciate your interest and hope you get a few good ideas here. Got one or two? I'd love to hear what you liked. Please write me a little COMMENT below. Start a conversation -- I'll reply. Promise.
By the way, does a friend need help selecting wedding or party music? Do them a favor: EMAIL this article, or SHARE it on Facebook, LinkedIn, or Google+.
And if you find my blog useful, please LIKE it, TWEET it, and SUBSCRIBE for more ideas. Use those cute little icons below.
Meanwhile, the Magnolia Jazz Band entertains at weddings and parties throughout the San Francisco Bay Area. If you are ever nearby, you'll love catching us in action, seeing and hearing us create a great mood.
How can I help you? Call 408-245-9120 or use Robbie@MagnoliaJazz.com. Planning a celebration? Ask about our availability.
If you like this post...