Thanks in advance for reading this article. I appreciate your interest and hope you get a few good ideas. Please write me a little COMMENT below. Start a conversation. Tell me what you think, and I'll reply. Promise.
=========================================================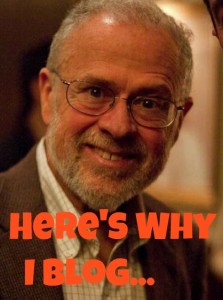 I recently described a few reasons why I blog.  Here's one more.
Back in 2009, I accepted a challenge to list 25 interesting things about me. If you have a moment right now, please read a few of them. If something I said there catches your attention, please tell me. I'd like to know more about you, too.
One of those 25 things touched on my love for gardening. Here's part of what I said about my garden:
It grows slowly, but it's always there.  I can see the effect of everything I do, slowly but surely, and nourishing it takes all my patience.
Same with my blog.  It's been growing for years now.  Gradually becoming sturdier and more attractive.  Blossoming occasionally, and bearing nice fruit regularly.
The same way I learn from master gardeners and other amateurs like myself, I've been following a number of blogging and social media authorities.
I've been learning how to give my blog beneficial exposure.  I've been learning how to nourish it and protect it.  I've been learning how to prune it to remove "deadwood", refine its size & shape, and encourage a better "yield".
Like any project I work on for a long time, I'm finding great satisfaction in watching it develop.  Don't you find the same thing yourself?
I understood its usefulness only vaguely at first.  Now I'm able to guide it along productive directions.
With nearly 300 posts now, my blog is becoming a durable, long-lasting vehicle for sharing my thoughts over a range of subjects, and particularly about wedding and party music.
I make a living entertaining at weddings and parties, and helping people plan the perfect music for their celebrations.  With my eyes and ears wide open, I'm always learning something new about wedding and party music.  Planning as well as performing.
I appreciate the opportunity my blog provides to examine and explore what I discover and share it with friends.  As my experience grows, my blog grows.
How about YOU? Ever tell someone "Here's why I blog"?
.
CLICK here to tweet this post and join our Magnolia Jazz Band fans on Facebook.  You'll receive daily tips for planning wedding and party music, and you'll get reminders for our public events.
Thanks for reading this article. I appreciate your interest and hope you get a few good ideas here. Write me a COMMENT below. Start a conversation -- I'll reply.
Does a friend need help selecting wedding or party music? Do them a favor: EMAIL this article, or SHARE it on Facebook, LinkedIn, or Google+.
And if you find my blog useful, please LIKE it, TWEET it, and SUBSCRIBE for more ideas. Use those cute little icons below.
Meanwhile, the Magnolia Jazz Band entertains at weddings and parties throughout the San Francisco Bay Area. If you are ever nearby, you'll love catching us in action, seeing and hearing us create a great mood.
How can I help you? Call 408-245-9120 or use Robbie@MagnoliaJazz.com. Planning a celebration? Ask about our availability.
If you like this post...