Thanks in advance for reading this article. I appreciate your interest and hope you get a few good ideas. I'd love to hear what you liked. Please write me a little COMMENT below. Start a conversation. Tell me what you think, and I'll reply. Promise.
=========================================================
I love this music career.  Leading my jazz band and helping people plan music for their celebrations, plus a full family life, keeps me hopping.
Though this music career gives me a wonderful life, I'm often exhausted.  It's been a busy summer, and tonight's one of those times.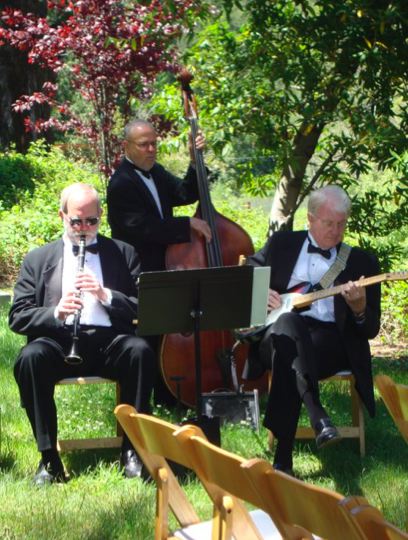 To keep you up-to-date, here's a picture of us warming up before a recent wedding ceremony in a beautiful garden setting.  Thanks for the wonderful photo, Amy Frugoli.
Ideas are flowing, but I'm bone tired, and the rest of me feels pretty beat up, too.  Don't get be wrong — I love it, and I'm struggling to stay busy tonight, despite a short attention span and aching feet.  Top to bottom.
It's Saturday evening, about 11pm.  Busy day today, and another one tomorrow.  This afternoon, the quartet entertained a hundred guests from near and far at a very posh wedding reception at San Francisco's Fairmont Hotel.
Besides leading the band, I was the MC and coordinated our music with many landmarks on the busy schedule, including a special "First Dance".  All in all, a lovely afternoon for everyone.  Congratulations, May and Winston.
We were in the gorgeous Pavilion Room, with it's adjacent rooftop garden, just down the hall from the Venetian Room, where we entertained at Willie Mays' 80th birthday party last May.  Lots of baseball luminaries there, and I chatted briefly with Tommy LaSorda.
Relatives have been visiting all week, and I've been tidying up the house and garden all month.  My wife is out for a few hours, driving them back to the airport, so I just caught up with some email.  Interesting:  A few friends are organizing their high school reunion back in Buffalo, NY.
I was one of their Health, Earth Science, and Biology teachers, and I emailed back, "Can a former faculty guy join the festivities?"  Waiting for a reply.  Do only classmates attend these things?  I attended my own high school reunion a few years ago, and none of our teachers joined us then.
My mind wanders tonight.  Will there be a point to this ramble?  Let's call it a "brain dump".  No, that's not a large weed-filled lot where people discard their broken, used-up brains.  I'm just letting all my thoughts spill out, and trying to catch and record as many as I can.  Right now it feels like a random flow, but I'm sure it isn't random.
Must every story have a point?  I once saw an episode of "Seinfeld".  Once but not twice.  I've been told that these stories were deliberately pointless, and that's what made the series so popular.  Huh?  Perhaps they figured that if we see the characters act silly and laugh a lot, we'll laugh, too, and think we're having an enjoyable time.
I don't get it, and I think I didn't missed anything worthwhile.  Hmmm… I'm so tired, my sense of humor is going.
This little essay, however, IS worthwhile to me right now.  I think it's helping to focus my thoughts.  Writing is letting me get drowsy, and I'm nodding off.  More tomorrow.
Bottom line:  Reading and writing help me "wind down" after a busy day.  What works for YOU?
CLICK here to tweet this post and join our Magnolia Jazz Band fans on Facebook.  You'll receive daily tips for planning wedding and party music, and you'll get reminders for our public events.
.
Thanks for reading this article. I appreciate your interest and hope you get a few good ideas here. Got one or two? I'd love to hear what you liked. Please write me a little COMMENT below. Start a conversation -- I'll reply. Promise.
By the way, does a friend need help selecting wedding or party music? Do them a favor: EMAIL this article, or SHARE it on Facebook, LinkedIn, or Google+.
And if you find my blog useful, please LIKE it, TWEET it, and SUBSCRIBE for more ideas. Use those cute little icons below.
Meanwhile, the Magnolia Jazz Band entertains at weddings and parties throughout the San Francisco Bay Area. If you are ever nearby, you'll love catching us in action, seeing and hearing us create a great mood.
How can I help you? Call 408-245-9120 or use Robbie@MagnoliaJazz.com. Planning a celebration? Ask about our availability.
If you like this post...