People often call music the universal language.  No translation needed.  Worldwide, everyone responds to music wordlessly and understands something it conveys through their feelings — happiness, sadness, fear, or something else..
Rather than communicate specific thoughts or ideas, music seems to conjure feelings, emotions, and images in our imagination.
Have you experienced this, too?  I do all the time, and I often write about watching people celebrate with music.
This morning I read a wonderful little essay about languages.  Discussing the pros and cons of several major languages, it made me think I'd call music the universal language, much more than English, French, German, Mandarin, Spanish, Arabic, Latin, and all the rest.
I found this fascinating article in one of my favorite magazines, and you might enjoy reading it, too.  It's a free online magazine called "Intelligent Life", and it features thoughtful, well-written articles about nearly every interesting subject you can imagine.
I subscribed by downloading its free iPad app, and I put it on my iPhone, too.  Did I mention that it's free?
Back to wondering:  Is music the universal language?  Especially for celebrating.  Well, I make a living going to weddings and parties, and I rarely attend a wedding that includes no music.  (Well, yes, of course, that's because I'm part of the team that provides wedding music.)
Same with parties, whether they celebrate holidays, personal landmarks, business achievements, or anything else.  Even a somber moment to celebrate a life.  Music creates the festive mood, bringing everyone together and into the swing of things.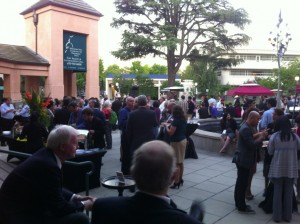 Here we are taking a mid-way break, entertaining at an exciting cocktail party at the Center for Performing Arts, in Mountain View.  Attendees are students and faculty at Singularity University, coming from dozens of countries worldwide.
Everyone enjoyed the atmosphere and had a great time!  Isn't music the universal language?
How about YOU? Is music the universal language?
How can I help you? Ask about our availability. Call 408-245-9120 or use Robbie@MagnoliaJazz.com.
The Magnolia Jazz Band entertains at weddings and parties throughout the San Francisco Bay Area. If you are ever nearby, you'll love catching us in action, seeing and hearing us create a great mood.
Thanks for reading this article. I appreciate your interest and hope you get a few good ideas here. Write me a little COMMENT. Start a conversation, and I'll reply.
Do you know a friend who needs help selecting wedding or party music? Please do them a favor: SHARE this article.
Or POST in on Facebook, LinkedIn, or Google+. And if you find my blog useful, please LIKE it, TWEET it, and SUBSCRIBE for more ideas. Use those cute little icons below.
If you like this post...