Thanks in advance for reading this article. I appreciate your interest and hope you get a few good ideas. I'd love to hear what you liked. Please write me a little COMMENT below. Start a conversation. Tell me what you think, and I'll reply. Promise.
=========================================================
Holiday party music is appropriate throughout the year, not just around December.
I'm talking about music for ANY holiday party.
Widen your imagination.  Holidays seem to happen every few weeks these days.  Any event can become the focus of a holiday, you know?  And you can choose suitably festive music for any event.
Be creative.  Why limit our choices to just Valentine's Day, Mother's Day, 4th of July, Thanksgiving, and a few others?  Pick any day and make it special.  Go for it!
Holiday party music will occupy our thoughts, as long as we can find something to celebrate.  This is especially true for those of us who avoid the last-minute hassles that plague procrastinators.  Whatever the holiday, if the date is months away, the early birds will have started planning already.  How are you doing?
Whether you'll plan your company holiday party or a festive get-together with your family and friends, you'll be asking questions about time, place, location, menu, and decor.  Let me help you plan the perfect holiday party music.
I recently blogged about how a bride and groom should select their wedding music.  You'll find that planning your holiday party music is far easier.  However, you'll still have to ask a few simple questions and find the best answers to suit your own tastes and preferences.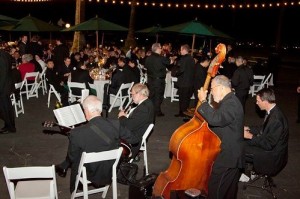 Here's an example:  Back in September 2010, we provided an elegant background to a lovely dinner party.
It was a benefit gala at St Patrick's Seminary, in Menlo Park, and all Linda Asti, the planner, and I had to discuss beforehand was the kind of mood she wanted for each phase of the party.  Thank you to Mark Pinto for taking this wonderful photo.
Just like at a wedding or a banquet like this, your own holiday party music will help your guests get in the proper mood and help your event flow smoothly.  Music will provide your guests many of your affair's essential features — ambiance, special landmarks, and the enjoyment of listening and dancing.
Think about the styles of holiday party music your guests will enjoy, and include them all.  Planning a special party theme, or will you stick with traditional holiday songs?
At a wintertime party, for example, you'll want to include some of the popular holiday songs.  There are dozens, including "Frosty The Snowman", "Santa Baby", "Let It Snow", "Silver Bells", "Rudolph the Red-Nosed Reindeer", "Baby It's Cold Outside", and "Sleigh Ride".
Just like a bride planning her wedding, you face two easy but important jobs:
First, if you wish to include particular songs, consider all your options and select your favorites.
Second, arrange all the details for fitting the music into the rest of your celebration.
People ask me questions every day, and the two most important tips I offer are:
Begin planning early.  Keep the process relaxed and enjoyable,
And ask all your professionals how to best use their services.
.
CLICK here to tweet this post, and join our Magnolia Jazz Band fans on Facebook.  You'll receive daily tips for planning wedding and party music, and you'll get reminders for our public events.
Thanks for reading this article. I appreciate your interest and hope you get a few good ideas here. Got one or two? I'd love to hear what you liked. Please write me a little COMMENT below. Start a conversation -- I'll reply. Promise.
By the way, does a friend need help selecting wedding or party music? Do them a favor: EMAIL this article, or SHARE it on Facebook, LinkedIn, or Google+.
And if you find my blog useful, please LIKE it, TWEET it, and SUBSCRIBE for more ideas. Use those cute little icons below.
Meanwhile, the Magnolia Jazz Band entertains at weddings and parties throughout the San Francisco Bay Area. If you are ever nearby, you'll love catching us in action, seeing and hearing us create a great mood.
How can I help you? Call 408-245-9120 or use Robbie@MagnoliaJazz.com. Planning a celebration? Ask about our availability.
If you like this post...