Thanks in advance for reading this article. I appreciate your interest and hope you get a few good ideas. I'd love to hear what you liked. Please write me a little COMMENT below. Start a conversation. Tell me what you think, and I'll reply. Promise.
=========================================================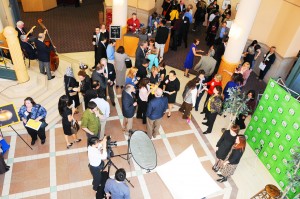 Planning music for an elegant party requires focus, as well as flashes of inspiration.
In my experience, most fine touches creating elegance are deliberately crafted decisions, rather than the happy result of seizing random chance.  But both talents are important.
Over the years, I've found that practice develops the skill of combining these two talents.  No one is born planning music or planning events.  Everyone learns, so experience really counts.
Experience also helps to cultivate your imagination, so you can capitalize on unexpected surprises.
This is true, whether you're a full-time professional event planner, or simply planning your own once-in-a-lifetime 50th anniversary party.
The same applies to the musicians who provide music to create the perfect atmosphere.  Our experience guides how we design what music to play, and how and when.  We start by focusing on the basics.  However, we always leave room to seize a few spur-of-the-moment opportunities.
Let me tell you a story about focusing.  Here we are back in March 2010, entertaining V.I.P. guests at a cocktail party in the lobby of the Center for Performing Arts, in Mountain View.  Thank you for the wonderful photo, Tammy and James Lau.
This was our fourth year playing for this event, preceding an annual awards ceremony.  Each party is slightly different, but always with an eye toward helping everyone enjoy being in the midst of a special occasion.  We've learned what music will set the right mood here — that's what we always focus on — and we're always ready to chat with guests and play their favorite requests.
I attend parties like this all the time, and I can only dimly remember my life prior.  Similarly, I've been married nearly 36 years now, and, believe me, a person easily grows accustomed to that lovely, endless conversation.  It's on my mind now, because my wife is out of town on business for 10 days, and in between our phone calls, my lonely mind tends to wander in strange directions.
Does this happen to you, too?  Yes, my thoughts eventually return to planning music for parties and weddings.  But what detours!
This morning, something (who knows what) reminded me of an idle conversation with a few friends studying Biology back in college.  We wondered how to decide which stage of an organism's life cycle was the adult, for which all the earlier stages live to prepare.  Seems simple enough, until you realize "cycle" means no beginning and no end.
So our question became whether the egg was actually the technique the chicken uses to produce the next generation of chickens, or was the chicken an elaborate technology the egg uses to produce the next generation of eggs.  Could it be that there is actually no "adult" stage for anything, except for what we make up, in order to have a simple, coherent notion to believe in?
It wasn't long before we were wondering whether the DNA molecule itself is the dominant life form on our planet.  In other words, is DNA using all living organisms to create the next generation of DNA molecules?  If so, is this molecule operating with a sense of purpose, survival instinct, or at least some kind of awareness?
Follow all that?  I remember thinking this conversation was getting ridiculous.  That kind of idle thinking was great mental exercise, going nowhere in particular.  It was exhilarating then, but it's far from the style I usually use nowadays.
These days, I focus to help people create the kind of atmosphere they want for their weddings and parties.  Over the years, I've developed a practical, problem-solving style of thinking, and now that my wife is out-of-town, I find my mind losing that focus a little more frequently.
So before I get lost again, here's a tip for planning music:  Set your landmarks according to what you've learned in your best experiences.  And keep your eyes wide open to be inspired by a few last-minute chance opportunities.

CLICK here to tweet this post and join our Magnolia Jazz Band fans on Facebook.  You'll receive daily tips for planning wedding and party music, and you'll get reminders for our public events.
Thanks for reading this article. I appreciate your interest and hope you get a few good ideas here. Got one or two? I'd love to hear what you liked. Please write me a little COMMENT below. Start a conversation -- I'll reply. Promise.
By the way, does a friend need help selecting wedding or party music? Do them a favor: EMAIL this article, or SHARE it on Facebook, LinkedIn, or Google+.
And if you find my blog useful, please LIKE it, TWEET it, and SUBSCRIBE for more ideas. Use those cute little icons below.
Meanwhile, the Magnolia Jazz Band entertains at weddings and parties throughout the San Francisco Bay Area. If you are ever nearby, you'll love catching us in action, seeing and hearing us create a great mood.
How can I help you? Call 408-245-9120 or use Robbie@MagnoliaJazz.com. Planning a celebration? Ask about our availability.
If you like this post...