Thanks in advance for reading this article. I appreciate your interest and hope you get a few good ideas. I'd love to hear what you liked. Please write me a little COMMENT below. Start a conversation. Tell me what you think, and I'll reply. Promise.
=========================================================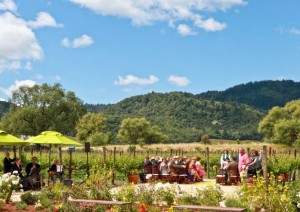 What an elegant wedding!   Can't you hear our jazz band music? (We're in the photo's lower left corner).
Here we are back in May 2010, beginning the bride's processional in a lovely wedding at Brix restaurant, in Napa.  That was a gorgeous afternoon, and congratulations Cheryl and Tim.
What a treat to work with coordinators Dee Merz and Shana Goldberg, and thanks for the wonderful photo, Coco and Tim Martin.
Cheryl told me our jazz music was "perfect".  Yes, very danceable, but especially because we included some of her favorite Broadway show tunes — "I Do I Do", "Sunrise Sunset", "People Will Say We're In Love", "Somewhere", "What I Did For Love", and many others.
Although I wouldn't tell her this, we're probably not the only jazz band around who could create her perfect atmosphere.  Yes, we're excellent, but after all, who of us is unique in the world?
And that got me thinking.  For curiosity, I recently spent a few interesting hours online, looking to see if I could find another Magnolia Jazz Band, and I found four!  Who could have guessed?
Have you ever searched for your own name like this?  Go ahead — I bet you'll find something interesting, at least, and probably surprising, too.
Just for practice, I drafted the following Wikipedia article about my own research (which explains all the links to other Wikipedia articles).  Who knows — I may modify and submit it someday.
I discovered I'm part of a hundred-year heritage of creating festive music for special events.  I'm especially fascinated to see how each of these similar jazz bands adapts to suit its time and place.  This is something all of us do all the time, and I hope you enjoy reading what I discovered.  Please tell me how you like it.
The Magnolia Jazz Band is the name used by several well-known jazz bands in the past century.  An occasional source of confusion, two of these bands are working currently — one in the San Francisco Bay Area and the other primarily in Norway. A third Magnolia Jazz Band worked for over a dozen years in England in the 1950s & 60s, and featured the trumpet player Mick Mulligan and singer George Melly. The earliest Magnolia Jazz Band I found worked in New Orleans around 1910, and featured guitarist Louis Keppard, trombonist Honore Dutrey, and the legendary cornet player, Joe "King" Oliver.
Today in America, one Magnolia Jazz Band entertains people at parties and weddings throughout the San Francisco Bay Area. Their fans enjoy popular standards, jazz classics, and Latin favorites, and the band ranges from a strolling trio to a swinging dance combo. Established in 1975 by Robbie Schlosser, at the time a graduate student at Stanford University, the many members over the years have included Squire Girsback, Bill Napier, and on a few occasions, pianists Art Hodes and Butch Thompson.
In Oslo, Norway, another Magnolia Jazzband has been entertaining at social clubs, halls, and jazz festivals throughout Europe's thriving traditional jazz scene since 1972. Established and still managed by my friend, trombonist Gunnar Gotaag in 1972, this seven-man band specializes in playing the "traditional" style of New Orleans jazz, which emerged in the early 1940s, popularized by the bands of Bunk Johnson, George Lewis and the Preservation Hall Jazz Band.  The membership of Gunnar's band has remained largely unchanged over the years, and both of these contemporary Magnolia Jazz Bands have recorded LPs, CDs, and videos.
In England, another Magnolia Jazz Band was a popular favorite among avid British Trad jazz fans at pubs, halls, and concerts (following the bands of Humphrey Lyttleton, Ken Collyer, Acker Bilk, Chris Barber, and Kenny Ball). Established in 1948 by charismatic trumpeter Mick Mulligan (1928-2006), this band finally broke up in 1962, mainly due to the growing popularity of rock and roll music. Noteworthy members included singer George Melly, trombonist Roy Crimmins and clarinetists Archie Semple and Ian Christie.
In New Orleans, probably the original Magnolia Jazz Band has been mentioned in books or interviews with trumpeter Louis Armstrong (1901-1971), bassist Pops Foster (1892-1969), guitarist Louis Keppard (1888-1986) and others. This band never recorded, and years later, Pops Foster recalled that the band played "ragtime", rather than sweet music or low-down blues.  Louis Keppard led this popular band, which entertained revelers at Pete Lala's Cabaret and other nightspots in New Orleans' notorious "Storyville" district.
All these Magnolia Jazz Bands are similar, but oh so different:
We're the only Magnolia Jazz Band around here.  And we're very easy to find.

Thanks for reading this article. I appreciate your interest and hope you get a few good ideas here. Got one or two? I'd love to hear what you liked. Please write me a little COMMENT below. Start a conversation -- I'll reply. Promise.
By the way, does a friend need help selecting wedding or party music? Do them a favor: EMAIL this article, or SHARE it on Facebook, LinkedIn, or Google+.
And if you find my blog useful, please LIKE it, TWEET it, and SUBSCRIBE for more ideas. Use those cute little icons below.
Meanwhile, the Magnolia Jazz Band entertains at weddings and parties throughout the San Francisco Bay Area. If you are ever nearby, you'll love catching us in action, seeing and hearing us create a great mood.
How can I help you? Call 408-245-9120 or use Robbie@MagnoliaJazz.com. Planning a celebration? Ask about our availability.
If you like this post...