Thanks in advance for reading this article. I appreciate your interest and hope you get a few good ideas. I'd love to hear what you liked. Please write me a little COMMENT below. Start a conversation. Tell me what you think, and I'll reply. Promise.
=========================================================
Blogging Tips for Planning Music are easy to find.
Google can help you find thousands of them online, and I've contributed plenty! Especially for planning music at weddings and parties in the San Francisco Bay Area.  See Planning Wedding Music, Planning Party Music, and Planning Music for an Elegant Party.
You can easily find Tips for Planning Music in websites and in blogs.  Both are great sources of helpful information, and in my opinion, blogs are becoming increasingly useful.  In a unique way:
We can leave comments and questions for the authors.  They and their readers can reply back to us.  In addition, we can read and reply to other comments on the blog, so all the blog's readers can engage at a deeper level.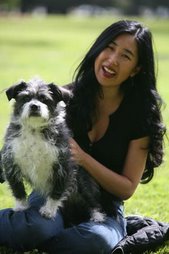 Here's an example.  This is my friend Stacie Tamaki, one of my favorite bloggers. (Photo of Kitai and Stacie taken from her blog, thanks.)  Stacie writes The Flirty Blog, and San Francisco BayList recently voted her the "Best Local Blogger" in the SF Bay Area.
She is setting a fine example, and her blog frequently touches many topics.  These include "living in the San Francisco Bay Area, entrepreneurial suggestions for small business owners, wedding and event ideas, lots of food posts", and more.
Stacie's loyal readers (me included) often leave comments for her, and she always replies with imagination and more information.  I love reading whatever she writes about.  Her subjects often relate to music, weddings, and parties, though not directly about tips for planning music.
Yet…  Maybe one of these days…
Now, let me tell you a story.  Several years ago, when I first got active with Facebook, I accepted a challenge to post 25 interesting things about me.  The project took some time, and I'm glad I did it.
Some of those 25 turned out to be pretty interesting, then and now, and I'm glad that was the closest I ever came to playing a Facebook game.  That's a sure-fire time-waster.
Several of those items now suggest good blogging tips for planning music at a wedding or a party.  Here's one of them:  Back in February 2009, I wrote:
Reading. I've always loved reading. I consider a book as a conversation with the author. Whether writing fact or fiction, he has something to tell me, and I always learn something new. Sometimes I "speed-read" (run my finger down the center of a page in a second, glimpse a few words on either side of my finger, and gather the sense of the story.) Other times I chew on a single page for hours. Do you have both kinds of conversations, too?
I was praising reading (for recreation, inspiration, and information), but at that time, reading was only a one-way "conversation".  Like a phone call where you can only listen, but not speak.
Nowadays, blogs and their comments create two-way conversations, and more.  So if you seek tips for planning music at your wedding or your next party, searching is now MUCH more fruitful than just a few years ago.
Here's a tip:  When you're planning wedding or party music and looking for help, read a few blogs on the topic and leave a comment or a question on every one.  Then expect a reply from the blog's author and probably a few readers.
.
 CLICK here to tweet this post, and join our Magnolia Jazz Band fans on Facebook.  You'll receive daily tips for planning wedding and party music, and you'll get reminders for our public events.
Thanks for reading this article. I appreciate your interest and hope you get a few good ideas here. Got one or two? I'd love to hear what you liked. Please write me a little COMMENT below. Start a conversation -- I'll reply. Promise.
By the way, does a friend need help selecting wedding or party music? Do them a favor: EMAIL this article, or SHARE it on Facebook, LinkedIn, or Google+.
And if you find my blog useful, please LIKE it, TWEET it, and SUBSCRIBE for more ideas. Use those cute little icons below.
Meanwhile, the Magnolia Jazz Band entertains at weddings and parties throughout the San Francisco Bay Area. If you are ever nearby, you'll love catching us in action, seeing and hearing us create a great mood.
How can I help you? Call 408-245-9120 or use Robbie@MagnoliaJazz.com. Planning a celebration? Ask about our availability.
If you like this post...