Marketing Tips for Wedding Planners
Thanks in advance for reading this article. I appreciate your interest and hope you get a few good ideas. I'd love to hear what you liked. Please write me a little COMMENT below. Start a conversation. Tell me what you think, and I'll reply. Promise.
=========================================================
Marketing Tips for Wedding Planners or Catering Directors or Party Professionals amount to a few solid pieces of advice.
And then lots of details.
I work with wedding planners all the time.  I watch them, and all these event pros, coordinate hundreds of details in their work.  Often helping to plan wedding music or party music.
But the solid advice I just mentioned can help ALL of us, no matter what business or project we're involved with.
Even if you're planning wedding music or party music.  Click to see what I mean.
.
Exactly what you'd expect, right?
But first, what qualifies me to talk about marketing tips?  I'm just a musician, leading a jazz band that entertains at weddings and parties.  Sure, many of my colleagues are Wedding Planners, Catering Directors, and Party Professionals, many of whom market very well, but what do I know about marketing tips?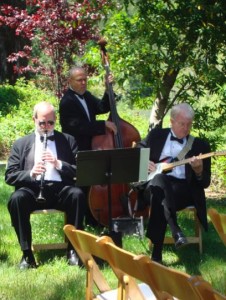 Answer:  Lots of examples that I've learned from my best colleagues.  For instance, here is a recent photo of us playing the "Wedding March", sent to me by an amazing wedding coordinator, Amy Frugoli, of Twitterpated Weddings.
Actually, she posted the photo on my Facebook Wall, with a very nice "Thank You, Magnolia Jazz Band! :-)", for all my friends and colleagues to see.  Thank YOU, Amy.
Of course, all of Amy's friends and colleagues could see the photo, too.  A good piece of marketing.  Win-win.
Let me side-track for a minute.  Years ago I was trained, first as a scientist then as an educator.  Finally, I've managed to learn a bit about managing a business — leading colleagues, setting goals, keeping records, marketing and sales, and all the rest.
I've developed my business sense informally, through attending a long succession of seminars and conferences, participating in professional associations, seeking conversations with mentors and colleagues, and learning from the usual "trial and error" system.  And endlessly reading articles and books.  Many books.
Among my favorites is the series of "Guerilla Marketing" books, written by Jay Conrad Levinson in the 1980s.  He suggests we regard marketing to be EVERYTHING we do to promote our business — the whole complex of activities, from the very beginning, through our day-to-day operations, to planning future growth.
All businesses share the same goals, like getting customers, making sales, and earning a profit.  And hopefully, doing some good in the process.
Levinson likes to contrast the tactics big businesses and small businesses use to pursue their goals.  And for all businesses, big or small, he lays out the basis of building an effective marketing plan, and what makes it successful.
Early in his first book, Levinson suggests that no marketing plan can succeed without three basic principles.  I still regard these as "golden".
We must be committed to whatever marketing program we create.
We must regard our marketing program as a long-term investment, not a "quick fix".
We must be sure that all our words and actions are consistent.  My favorite line:  "Consistency breeds Familiarity breeds Confidence breeds Sales."
Now, you can Google "Marketing Tips" and find thousands of specific things to do.  Tactics.  Like print all your contact information everywhere, on your business cards, brochures, stationery, websites, email signatures, etc.  These are details, which you'll revise from time to time.
For my money, Levinson's best marketing tip of all is to internalize his three principles.  Let them be the framework which you'll decorate with all the tactical details you'll acquire over time.
I've been marketing the Magnolia Jazz Band since 1975, and every week it seems I'm learning another new detail for doing it better.  Yet I'm always committed to my marketing program, investing in it for the "long haul", and neurotic (if you ask my wife) about being consistent.
You too?
So if you manage a business, follow your marketing plan.  Unify all your marketing details with principles like commitment, investment, and consistency.
And if you're planning wedding music or party music, here's a tip:  Guide your project with these same three principles.
Commitment:  Throughout easy phases and tough patches, plug away and don't lose heart.
Investment:  Value your early progress, and let it pay off in the long run.
Consistency:  Keep your eye on the target and don't waver.
CLICK here to tweet this post, and join our Magnolia Jazz Band fans on Facebook.  You'll receive daily tips for planning wedding and party music, and you'll get reminders for our public events.  .
Thanks for reading this article. I appreciate your interest and hope you get a few good ideas here. Got one or two? I'd love to hear what you liked. Please write me a little COMMENT below. Start a conversation -- I'll reply. Promise.
By the way, does a friend need help selecting wedding or party music? Do them a favor: EMAIL this article, or SHARE it on Facebook, LinkedIn, or Google+.
And if you find my blog useful, please LIKE it, TWEET it, and SUBSCRIBE for more ideas. Use those cute little icons below.
Meanwhile, the Magnolia Jazz Band entertains at weddings and parties throughout the San Francisco Bay Area. If you are ever nearby, you'll love catching us in action, seeing and hearing us create a great mood.
How can I help you? Call 408-245-9120 or use Robbie@MagnoliaJazz.com. Planning a celebration? Ask about our availability.
Categories: Marketing My Band, Planning Party Music