Thanks in advance for reading this article. I appreciate your interest and hope you get a few good ideas. I'd love to hear what you liked. Please write me a little COMMENT below. Start a conversation. Tell me what you think, and I'll reply. Promise.
=========================================================
I practice music, like some people practice law or medicine.  It's my career.
I also practice music, in the sense of rehearsing to polish my skills.  I began at the age of 9, and probably earlier — who knows?  Kids sing, don't they?
Recently I blogged about gaining professional experience from practicing, and my friend Stacie Tamaki posted a wonderful comment on my blog.
What Stacie says is true for me, too.  In her opinion, acquiring professional experience is a continuing process.  Always striving to learn more, she never feels she knows all she needs to know.
When I think about my life – the big picture – I see my interests evolving, too. The hand of a deity may be intervening here, but I'll never know.  All I know is that I am on an endless quest for opportunities to grow.
Both refining and expanding at the same time.  In other words, one reason to practice music is to invest in myself.
Perhaps this is your strategy, too.  If so, let me offer a tip:  Consider your career — or whatever you like to do — a "practice".  That is, the business of a professional.
In other words, become a pro pursuing your calling.  Get serious and commit to your long-term success.  Get training.  Learn to trust your intuition.  Adopt an optimistic, do-whatever-it-takes attitude, and your efforts will pay great dividends.
Works for me.  In my own practice I entertain people with my music, and my job really is to create opportunities for that to happen.  I need to be curious, resolute, empathetic, inventive, and skillful at creating whatever kind of music the situation calls for.
For example, take my whole musical career. Beginning in the third grade, I played in school bands and orchestras for the next 18 years. After college, for a hobby while I lived in upstate New York, I also enjoyed jazzing it up with several Dixieland bands and a jug band.  Practicing music.
I just found this 1970 photo of clarinet wizard Brian Bauer (Buffalo, NY's "Dr. Jazz"), me (Oh, how I miss all that hair!), and trombonist Harry H. O. Brunn (author of "The Story of the Original Dixieland Jazz Band")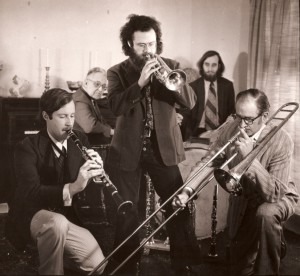 Shortly after moving to California, I organized the original Magnolia Jazz Band, which evolved into a popular New Orleans-style dance band.  At the time, I believed this band would be my all-time favorite, and I still love remembering it.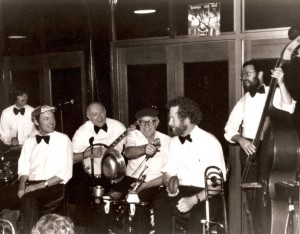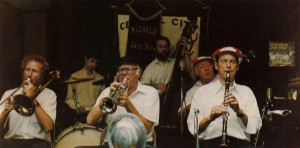 But the times changed, and I continued to practice music.  Focusing on more elegant styles of traditional American music, the Magnolia Jazz Band became a trio and built a solid reputation for entertaining throughout the San Francisco Bay area.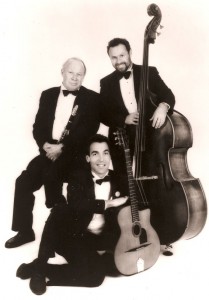 Following my passion for the old style popular music, I played regularly with the Royal Society Jazz Orchestra for several years in the late 1980s [watch this VIDEO, especially at 104 seconds].  And I toured occasionally with the wonderful pianist Butch Thompson in the early 1990s.  Practicing music.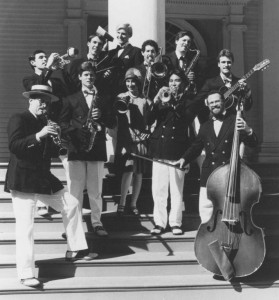 Nowadays, the trio expands up to a sextet and plays a broader variety of music. Waltzes, fox trots, cha-chas, tangos, rumbas, and bossa novas for ballroom dancers. Traditional ceremony songs and romantic ballads at wedding receptions. Light popular music for cocktail parties and grand openings.  Still plenty of swing standards and jazz classics.  Practicing music.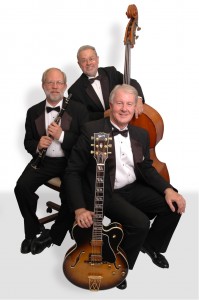 Bottom line:  We often hear that the goal of a successful life is the journey, not the destination. Because I practice music, I think like a pro, focus on long-term directions, and take special care of every detail along the way.
"Keep the best, change the rest" — this attitude seems to work well for me.
How about you? What do you practice?  Are your interests and careers always evolving? Seriously, how do you guide your life?
CLICK here to tweet this post, and join our Magnolia Jazz Band fans on Facebook.  You'll receive daily tips for planning wedding and party music, and you'll get reminders for our public events.
Thanks for reading this article. I appreciate your interest and hope you get a few good ideas here. Got one or two? I'd love to hear what you liked. Please write me a little COMMENT below. Start a conversation -- I'll reply. Promise.
By the way, does a friend need help selecting wedding or party music? Do them a favor: EMAIL this article, or SHARE it on Facebook, LinkedIn, or Google+.
And if you find my blog useful, please LIKE it, TWEET it, and SUBSCRIBE for more ideas. Use those cute little icons below.
Meanwhile, the Magnolia Jazz Band entertains at weddings and parties throughout the San Francisco Bay Area. If you are ever nearby, you'll love catching us in action, seeing and hearing us create a great mood.
How can I help you? Call 408-245-9120 or use Robbie@MagnoliaJazz.com. Planning a celebration? Ask about our availability.
If you like this post...