Thanks in advance for reading this article. I appreciate your interest and hope you get a few good ideas. I'd love to hear what you liked. Please write me a little COMMENT below. Start a conversation. Tell me what you think, and I'll reply. Promise.
=========================================================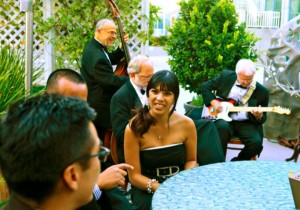 Communication listening skills drive my life and my business.  Everything stems from productive dialogues.  Not monologues, but the generous, thoughtful exchange of ideas and information.
Every day I'm reminded of the importance of developing good listening skills, and I always try to learn something new by observing good practices.  Let me tell you about a recent example.
Here's the Magnolia Jazz Band two weeks ago, playing at a cocktail party for the ACPWC, an association of wedding coordinators and their colleagues.  Like all salespeople (all of us one way or another, actually), these coordinators make a living talking with many people — clients, prospects, and the other wedding pros they work with.  And their families and friends, of course, whose support enables them to put in such long hours on the job.
Thank you to my friend, and outstanding videographer, David Ethridge, of AVR Films, for the wonderful photo.  For over an hour, we worked amid a swarm of conversations — the room (patio, actually) buzzed with excitement.  Chatter was non-stop, but whenever I looked around (constantly, actually), most people were silent, listening eagerly and waiting their turn to advance their stories.
The same way the musicians advanced through the "story" of each song we played (our own listening skills is the subject for another day), these wedding coordinators were masters of communication listening skills — pacing and guiding their conversations with a few well-chosen words or sentences, and then listening carefully as the others continued the thought.
Lovely to watch, this conversational give-and-take, asking-and-listening, broadcasting-and-receiving.  Like a dance.  Introduce a new idea, then listen to follow where the discussion goes.  Bottom line: When it came to counting minutes of talking, these masters of communication spent lots more time "taking it in" than "giving it out", whether their conversations were small talk or serious business.
There's an old saying, about God giving us two ears and one mouth, so we can listen twice as much as we speak.  I'm not so sure about the recommended ratio, but the sentiment seems right on target.
This group impressed me, because I make a living talking with people, too.  And though I'm often tempted to blabber, these pros showed me it's seldom a good idea, and listening is better.
Every day I'm talking with people planning music for ALL kinds of celebrations throughout the San Francisco Bay Area.  If we can ever help you, please call us at 408-245-9120.  I promise I'll listen carefully to everything you tell me.
Please visit MagnoliaJazz.com for testimonials, music samples, videos, photos, and our public schedule, and catch us at an event soon.  Our next PUBLIC appearances are on Saturday & Sunday, September 11 & 12, in the "2010 Ghirardelli Square Chocolate Festival", in San Francisco.   See details and RSVP for this event on our website.
In the meantime, please join our Facebook "fans", and you'll get a reminder for each of our public events.  Thanks for reading my blog.  Please take a moment to SHARE this post, SUBSCRIBE, and send me a COMMENT.
Thanks for reading this article. I appreciate your interest and hope you get a few good ideas here. Got one or two? I'd love to hear what you liked. Please write me a little COMMENT below. Start a conversation -- I'll reply. Promise.
By the way, does a friend need help selecting wedding or party music? Do them a favor: EMAIL this article, or SHARE it on Facebook, LinkedIn, or Google+.
And if you find my blog useful, please LIKE it, TWEET it, and SUBSCRIBE for more ideas. Use those cute little icons below.
Meanwhile, the Magnolia Jazz Band entertains at weddings and parties throughout the San Francisco Bay Area. If you are ever nearby, you'll love catching us in action, seeing and hearing us create a great mood.
How can I help you? Call 408-245-9120 or use Robbie@MagnoliaJazz.com. Planning a celebration? Ask about our availability.
If you like this post...