Thanks in advance for reading this article. I appreciate your interest and hope you get a few good ideas. I'd love to hear what you liked. Please write me a little COMMENT below. Start a conversation. Tell me what you think, and I'll reply. Promise.
=========================================================
Business Networking Groups and leads groups can always make your life even MORE interesting.
I ought to know.  I've been an active member of the Silicon Valley chapter of NACE (National Association of Catering Executives) since about 1993, and over the years I've been friends with and worked with most of my fellow members.
At our recent meeting, I walked into a room filled with some of my best colleagues — Caterers, Wedding Planners, Event Planners, and other wedding and party professionals like me.  I enjoyed good chats with at least 25 of the "regulars" and met 8 new attendees.
Listen to my thoughts before the meeting:

and listen to my thoughts right after the meeting: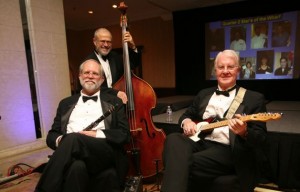 By the way, here's a picture from one of those long-time friends I saw tonight, photographer Jordan River.  Last March, Jordan photographed us entertaining in another NACE meeting, at the San Jose Museum of Art.
The program at this recent meeting was one of the best I can recall.  We have a practical educational program nearly every month, and we called this one "Wedding-ology".  It was a moderated panel discussion about how brides and grooms select vendors for their weddings.
Three couples (one recently married, one about to be married, and one just beginning to plan) spoke for about 45 minutes about many issues, including
how and where they search,
how and where they get advice,
how they choose,
how to handle a budget,
and what information they wish they'd known earlier.
There were several good eye-openers for me, and looking around the room, I saw lots of us taking notes.  For example (at least for these three couples),
Who know that Yelp would be such a popular resource?
Who knew that various facilities' Preferred Vendors Lists would be so useful?
Who knew that the wedding shows would be so unproductive?  (At my table, several vendors suggested these ubiquitous shows were awful for booking weddings but wonderful for meeting other vendors.)
I came home filled with enthusiasm to call at least a dozen colleagues tomorrow morning and to re-word parts of my website.  It's the same excitement at every meeting, and I'm glad NACE gives me this opportunity to gather with colleagues (friends, actually) and examine how we all take care of business.
For me, I continue to learn how I can help brides and groom plan the music for their celebrations.
Bottom line:  Business Networking Groups can make your life more interesting and your business more effective.  If you have a chance, get involved with one.  Are you already active in a group?
.
 CLICK here to tweet this post and join our Magnolia Jazz Band fans on Facebook.  You'll receive daily tips for planning wedding and party music, and you'll get reminders for our public events.
Thanks for reading this article. I appreciate your interest and hope you get a few good ideas here. Got one or two? I'd love to hear what you liked. Please write me a little COMMENT below. Start a conversation -- I'll reply. Promise.
By the way, does a friend need help selecting wedding or party music? Do them a favor: EMAIL this article, or SHARE it on Facebook, LinkedIn, or Google+.
And if you find my blog useful, please LIKE it, TWEET it, and SUBSCRIBE for more ideas. Use those cute little icons below.
Meanwhile, the Magnolia Jazz Band entertains at weddings and parties throughout the San Francisco Bay Area. If you are ever nearby, you'll love catching us in action, seeing and hearing us create a great mood.
How can I help you? Call 408-245-9120 or use Robbie@MagnoliaJazz.com. Planning a celebration? Ask about our availability.
If you like this post...