Writing Contests and Magnolia Jazz Band
Thanks in advance for reading this article. I appreciate your interest and hope you get a few good ideas. I'd love to hear what you liked. Please write me a little COMMENT below. Start a conversation. Tell me what you think, and I'll reply. Promise.
=========================================================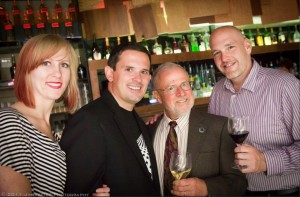 I lead the band at a wedding or a party nearly every day, and in between engagements I like to socialize with my colleagues, to help us get to know each other better, to work together even more smoothly.
For example, here I'm with friends at a recent mixer called "Martini Madness", chatting with photographers Rebecca and Orbie Pullen and wedding coordinator, Jason Diavatis. Thanks for your wonderful photo, Jim Vetter.
I also enjoy reading and writing, and occasionally enter a writing contest.
Writing Contests, in my opinion, too often smother the English-speaking world.  Well, the English-writing world, to be more accurate.
I mean "smother" in the sense of "restrain", rather than "extinguish".
Oh, you say you love writing contests?  Good!  Some are wonderful, I'm sure, but not all.
Too harsh?  Let me put it more mildly:  It seems to me that writing contests are not without their faults.  Yes, I agree: writing contests can inspire authors to excel and win praise, recognition, and perhaps valuable prizes.
That's fine unless contestants find themselves competing for the sake of winning, rather than of writing.  Grinding out words efficiently, with machine-gun precision, but not communicating effectively, with clarity and passion.
That's it.  Not all writing contests are Satan's playground, of course, but some tend to veer off… What a shame!  Writing well, like entertaining people with music, is an opportunity to create grace, elegance, and timeless beauty.  Done well, it's an expressive activity.  It ain't just "laying bricks".
I'm thinking about writing contests because I joined one several years back.  Well, not really a contest, actually, but a 30-day challenge to write at least 30 minutes a day, and see what happens.  I looked forward to practicing and developing the habit of writing regularly, more sincerely and expressively.  From the heart.
That phrase, "from the heart", rings a bell for me, because more than a few of the old-time New Orleans musicians used it to describe how they played their music.  And it inspires me to this day.
I always play with the attitude of entertaining people, to help them enjoy whatever they're doing, whether it's celebrating at a wedding ceremony, dancing at a party, or chatting at a banquet.  I strive to play "from the heart", to reach people emotionally and help them "get into the swing of things", as I often say.
Nowadays I'm hoping to accomplish the same with my writing.  But it's not just one of those contests!
Bottom line:  What do YOU do "from the heart"?  Writing well, playing music, or something else?
..
CLICK here to tweet this post and join our Magnolia Jazz Band fans on Facebook.  You'll receive daily tips for planning wedding and party music, and you'll get reminders for our public events.
Thanks for reading this article. I appreciate your interest and hope you get a few good ideas here. Got one or two? I'd love to hear what you liked. Please write me a little COMMENT below. Start a conversation -- I'll reply. Promise.
By the way, does a friend need help selecting wedding or party music? Do them a favor: EMAIL this article, or SHARE it on Facebook, LinkedIn, or Google+.
And if you find my blog useful, please LIKE it, TWEET it, and SUBSCRIBE for more ideas. Use those cute little icons below.
Meanwhile, the Magnolia Jazz Band entertains at weddings and parties throughout the San Francisco Bay Area. If you are ever nearby, you'll love catching us in action, seeing and hearing us create a great mood.
How can I help you? Call 408-245-9120 or use Robbie@MagnoliaJazz.com. Planning a celebration? Ask about our availability.
Categories: My Musical Career