Include Music in Your Dinner Party Ideas
Thanks in advance for reading this article. I appreciate your interest and hope you get a few good ideas. I'd love to hear what you liked. Please write me a little COMMENT below. Start a conversation. Tell me what you think, and I'll reply. Promise.
=========================================================
Dinner Party Ideas, particularly ones about including music, spring to my mind every time we're playing.   Talking about ANY music here — not just the elegant live jazz that I play.
I'm always noticing that music is a remarkable "social lubricant", to coin a phrase.  For example, last Friday night the trio entertained at a fancy dinner party at the Ritz-Carlton Half Moon Bay.
As I always do, I watched as everyone eased into their conversations and enjoyed the mood with great company, wonderful food, and soft music.
It was a lively group of about 50 people in a small ballroom, and we were positioned in the center of a long wall, just a few feet away from the nearest table.  The room's acoustics were splendid.
Our music was restrained and carried nicely throughout the room, without intruding on any conversations.  People smiled at us when they recognized a familiar tune, so we selected familiar tunes all evening.
The party atmosphere developed so quickly and smoothly!  What a dramatic reminder that our music helps people get "into the swing of things", as I like to say.
So it's a smart planner who includes music prominently in her dinner party ideas.  Certainly the menu, flowers, and other decor are important — and so is the music.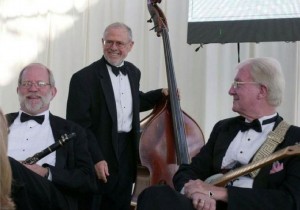 Here we are last October, enjoying a light moment when we entertained at a casual dinner party at the Craneway Pavilion, in Richmond, CA.
I recently wrote about planning music for parties.  Same with planning music for weddings.  In my experience, including our music at parties always helps people celebrate these special events.
Often the occasions are happy times, like weddings or TGIF company parties.  Occasionally the occasion is mixed with some sadness, like funerals or retirement parties.
Either way, I've always found that music helps people "tap into" their feelings, so they enjoy the spirit of the occasion more fully.  In other words, with music they feel better, whether the occasion is happy or sad.
Why is this so?  That is a long story, and it's not entirely clear.  Very little is known for certain about that, and I'll comment on it in a future article.
In the meantime, whenever a planner asks me for a few dinner party ideas, particularly about including music, I focus on what I've learned that works.
So here are three tips about wedding music and party music that I encounter nearly every day:
Have the music start at the beginning of your party and play throughout, except for announcements, toasts, and other special landmarks.
Whatever the occasion of your party, be sure that most (if not all) of the music will be "familiar" to the party's guests.
If your party will feature several different moods at various times, carefully prepare your musicians to play the appropriate music for each mood.
Most of us host SOME kind of party from time to time.  When you plan your next one, let me urge you to include music.  Give some thought to the benefits you'll get, and use your music wisely.
Looking for ideas about including music?  You have many options, and you can always search online for dinner party ideas — the internet is a wonderful resource.
Or do like me.  I keep my eyes and ears open whenever I attend a dinner party, and like Friday night, I always come home with a few new dinner party ideas.
.
CLICK here to tweet this post and join our Magnolia Jazz Band fans on Facebook.  You'll receive daily tips for planning wedding and party music, and you'll get reminders for our public events.
Thanks for reading this article. I appreciate your interest and hope you get a few good ideas here. Got one or two? I'd love to hear what you liked. Please write me a little COMMENT below. Start a conversation -- I'll reply. Promise.
By the way, does a friend need help selecting wedding or party music? Do them a favor: EMAIL this article, or SHARE it on Facebook, LinkedIn, or Google+.
And if you find my blog useful, please LIKE it, TWEET it, and SUBSCRIBE for more ideas. Use those cute little icons below.
Meanwhile, the Magnolia Jazz Band entertains at weddings and parties throughout the San Francisco Bay Area. If you are ever nearby, you'll love catching us in action, seeing and hearing us create a great mood.
How can I help you? Call 408-245-9120 or use Robbie@MagnoliaJazz.com. Planning a celebration? Ask about our availability.
Categories: Celebrating with Music, Planning Party Music