Thanks in advance for reading this article. I appreciate your interest and hope you get a few good ideas. I'd love to hear what you liked. Please write me a little COMMENT below. Start a conversation. Tell me what you think, and I'll reply. Promise.
=========================================================
Are you reliable?
How to be reliable leading my jazz band is something I seldom ask myself, because keeping my promises is always on my mind.
A reliable partner in weddings and parties is how I want colleagues and clients to think of me.   Capable, honest, and dependable under pressure.  Someone people can always count on to perform well, as promised.  Everyone and every business wants this, I'm sure.  Who wouldn't?
You say you want your wedding ceremony to include "At Last", "Pachelbel's Canon", and "All You Need Is Love"?  I promise.  And your dinner party should feature lots of Cole Porter, George Gershwin, and Rogers & Hart songs?  And every third song should be a bossa nova?  I promise.
And you'd like us to wear tuxedos.  I promise.  And you'd like me to call at 6pm tomorrow to suggest a few more songs to highlight in your anniversary party?  I promise.
See, in my business and in my personal life, I'm making promises all the time.  You, too?  I want friends, colleagues, and clients to trust me to always keep my word.  To be reliable.  Lose that and I lose everything, right?
I'm always tackling new projects, making new promises.  It never ends — booking the band, entertaining at celebrations, living my life.  Successfully meeting dozens of deadlines every day keeps me busy, productive, and confident.
I always hear that if you have a job that must be done well, give it to a busy person.  That is, someone success-oriented, who can organize his time, prioritize his tasks, solve problems, and make things happen.
When I make a promise, I take a stern, no-nonsense stand and don't back down. Especially on a promise to myself.  It's a matter of saying simply, I will not break my word.  Period.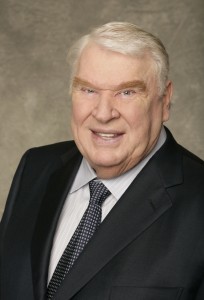 I recall once hearing an interview with sportscaster John Madden.  Are you a fan, too?  He commented on someone who just made an ugly comment in an unguarded moment, but "on the record".
Madden said essentially, there's only one way to avoid that kind of embarrassing incident:  "Don't even think it!".
Great advice, and I also like the sentiment that urges "If you can't be on time, be early.  And if you're just in time, you're already late."
In elementary school, I was late for everything, so perhaps I solved that problem by developing my present unforgiving sense of discipline.  It's a personal trait that I think keeps me in business, and I share it with most of my colleagues.
In fact I think every one of us is a relentless self-starter and go-getter.  Maybe we're a little compulsive but we're constantly busy, bordering on the "glutton for punishment" side.
Have I just described all entrepreneurs?  If not, how do the rest of us stay in business? I recently wrote about entrepreneur opportunities in San Francisco and beyond, and what it takes to be a successful entrepreneur.
Hmmm… I recently told a friend that people who achieve some success in life seem to feel they've been blessed with the right attitudes after all, and that everyone who differs is wrong.  It's human nature, right?  We live in a world of evangelists. God help us!
But I remind myself that if I break a promise to myself, how can I expect anyone to honor their own promise to me?  And how can I expect to keep a promise to anyone else, if I can't keep my word to myself?
Honoring our word keeps each of us dependable friends and partners, strong and ethical, and supports our business, as well..
Bottom line: To me, being reliable means making promises and keeping them.  I have a few strategies for reliability, and they're unforgiving.  What's YOUR secret for how to be reliable?
.
CLICK here to tweet this post, and join our Magnolia Jazz Band fans on Facebook.  You'll receive daily tips for planning wedding and party music, and you'll get reminders for our public events.
Thanks for reading this article. I appreciate your interest and hope you get a few good ideas here. Got one or two? I'd love to hear what you liked. Please write me a little COMMENT below. Start a conversation -- I'll reply. Promise.
By the way, does a friend need help selecting wedding or party music? Do them a favor: EMAIL this article, or SHARE it on Facebook, LinkedIn, or Google+.
And if you find my blog useful, please LIKE it, TWEET it, and SUBSCRIBE for more ideas. Use those cute little icons below.
Meanwhile, the Magnolia Jazz Band entertains at weddings and parties throughout the San Francisco Bay Area. If you are ever nearby, you'll love catching us in action, seeing and hearing us create a great mood.
How can I help you? Call 408-245-9120 or use Robbie@MagnoliaJazz.com. Planning a celebration? Ask about our availability.
If you like this post...