Today it happened again!  My curiosity did me in again.  Like the proverbial cat.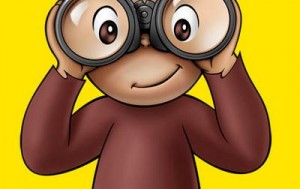 "Intellectual curiosity" might sound pretty arrogant, I suppose, but it feels right.  It's the urge to think about ideas.  The willingness to follow our nose and try to figure things out.  I just wonder about all the ideas swirling around me, and my appetite for more information knows no bounds.
Today's mail brought Foreign Affairs, and I felt like saying "Oboy, reading this is going to be so interesting" and "Oh Geez, I haven't finished the New York Times Magazine yet".
Does this dilemma happen to you, too?  I keep thinking I want to know more, understand better, but there's too little time to cram it all in.
I'm an impulse buyer for thoughtful opinions.  So every year I subscribe to a few more periodicals and cancel a few others.  This year' revolving entries are the NYTimes (Sundays), The Economist, Wall Street Journal, Foreign Affairs, and The Atlantic.   And the perennial MacWorld and MacLife — they're always on my list.  Recent years have seen the the Wilson Quarterly, Hoover Digest, Lapham's Quarterly, and many more.
Magazines subscriptions are small potatoes.  Email newsletters really kill me.  I already receive more personal and business email than I can handle.  Nevertheless, every week I sign up for a few more free newsletters that look fascinating and useful, and every Monday morning I unsubscribe to at least as many.  So much for my intellectual curiosity!
Despite the frustration, I'm glad for this torrent of ideas.  I believe that the more wide-ranging information I acquire, the more effective and creative I'll be at helping people plan music for their weddings and parties.
Still, I wonder:  Is it just me, or are we ALL suddenly deluged with a tsunami of more information than was ever available?  And at the same time, does it make us struggle to restrain our intellectual curiosity?
What a wonderful, frustrating way to live!  How about YOU?  How do you handle your intellectual curiosity?
Thanks for reading my blog. I appreciate your interest and hope you get a few good ideas here. Please comment and continue this conversation. I'll reply to you, and so will others who share your interest. You'll make new connections.
Here are four things you can do:
• "COMMENT" (Tell me your thoughts in the "Comment" box below),
• "LIKE" this post (Click the "+1" and "Like" buttons). Give me your vote,
• "SHARE" (Tell your friends by Email or post on Google+, Facebook, Twitter),
• "SUBSCRIBE" to this blog for more of my thoughts (Click the "RSS").
The Magnolia Jazz Band entertains at weddings and parties throughout the San Francisco Bay Area. If you are nearby, you'll love catching us in action, seeing and hearing us create a great mood. In the meantime, please join our Facebook fans to receive daily tips for planning wedding and party music and to receive reminders for our public events.
If you like this post...