Nearly every day, I help people planning party music and wedding music.  And then my band creates the perfect music at these celebrations.
I'm so lucky to make a living this way!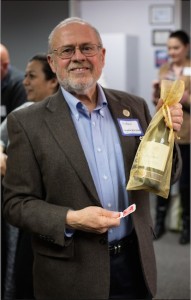 Recently I got lucky a different way.  Here I am, winning a bottle of wine at a networking meeting for special event pros.  Thanks for this happy photo to my friend Harrell Harris.
Dumb luck?  Maybe, but I DID buy more raffle tickets than most people there.
It's nice to be lucky with wine, of course, but I'm far happier entertaining people with my music.  When our music makes these parties and weddings successful, is it because we're just lucky?
Well, yes.  But not entirely.
Sure, we have the skills.  We have years and years of experience. We've learned what it takes to bring these festivities to life.  Whether the event's mood is upbeat, casual, elegant, formal, or anything else, we help everyone there get in the swing of things and have a memorable time.
But it's like one of my favorite sayings: "The more I practice, the luckier I get."
It's more than just skills.  At every event, we create conditions to let lucky breaks happen, and we're alert to catch them.  Often they arrive as roadblocks.
So here's a tip when you're planning party music or wedding music.  Recognize obstacles as opportunities to get lucky.  Be bold and apply a creative solution.  Buy some more raffle tickets.
CLICK here to tweet this post, and join our Magnolia Jazz Band fans on Facebook.  You'll receive daily tips for planning wedding and party music, and you'll get reminders for our public events.
{ 7 comments }