Using testimonials can be very powerful.
Depending on what we want, we have many ways to use testimonials.  To gather information or to provide information.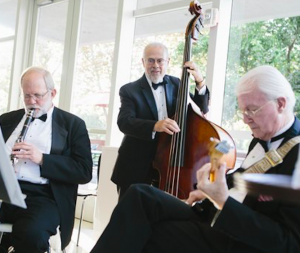 Brides and party planners use our testimonials to help plan the music for their celebrations.  For example, a client recently posted a wonderful testimonial for us on Yelp, and included this photo.  Thanks, Kayla.
I recommend you read testimonials whenever you can.  Learning what others enjoy can give you eye-opening inspirations and trigger fresh ideas for you.
In my experience marketing the band, I've found that testimonials and reviews are the next best thing to word-of-mouth recommendations from your trusted friends.
And these w-o-m recommendations are the next best thing to your experiencing first-hand the upbeat, elegant mood we create.
So I hope that someday you can be a wedding guest or attend one of our parties. In my opinion your first-hand impression is the most effective way to learn about what we bring to any celebration.
And once you know what kind of festive mood you want, what to expect from us, and how to get the best from us, then you can begin planning the music for your celebration.
But if you can't catch us in action, and if a good friend hasn't recommend us, I hope you'll read many of our testimonials. I'm doing my best to make them easy to find.
Now looking at testimonials from a broader perspective, most businesses use testimonials to help their prospects learn what their product or service can provide.
Do you manage a business? I'm sure there are dozens of ways to use testimonials for marketing your business. How many are you using?
I've been using a few good ones. Four of them:
Include testimonials in my printed material (brochures, etc.),
Post testimonials on my social media channels,
Post testimonials on a dedicated page on my website,
Ask happy clients to post reviews on Yelp, WeddingWire, Facebook, etc.
Recently several savvy colleagues suggested a few more ways. Thanks Jason, Yehudit, Stephanie, Sarah, Jennifer, Harry, Tri, Ken, Robin, Norman, Robert, Jamie, Denise, Liliana, Carolyn, Barbara, Auey, Christine, Joe, StephanieAnn, Karinn, and Lowell.
Four of the new ways they suggested:
Include a testimonial in my email signature,
Ask a happy client to send an audio or video testimonial, and post it on my website & social media,
Photograph a handwritten testimonial and post it on my website & social media
Do you like one of these new ways to use testimonials? Write a comment and tell me how you'd use it.
.
CLICK here to tweet this post and join our Magnolia Jazz Band fans on Facebook.  You'll receive daily tips for planning wedding and party music, and you'll get reminders for our public events.
{ 0 comments }