Feelings about music dominate many of my business conversations.  
Nearly every day I help people select music for their weddings and parties.
If I do my job right, their choices reflect their feelings about music.  I frequently write about feelings in music, because they're the foundation for what I love and how I make a living.
Feelings are how music conveys meaning, how music does its magic.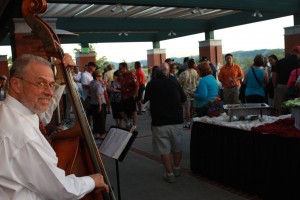 What do I mean?  Let me tell you a story.  Here we are, entertaining at a casual cocktail party in Morgan Hill.  Thanks to Jordan River Productions for the nice photo.
Before the band entertains at a party like this, I discuss with the host what music will set the perfect mood.  For the entire event, as well as for the special landmarks — welcomes, toasts, announcements, awards, entrance of guests of honor, farewells, etc.
These conversations always focus on their feelings about music.  Although we always discuss the same topic, it's a different conversation with each bride or party planner.
You might think this could become tedious, day after day, but it doesn't.
To stay fresh, I regularly change my routine for a day or two, to renew my perspective.  For example, I recently took a day off to attend a conference about helping people cope with disease.  Patients as well as care-givers.
Not a very sexy topic, I agree, but something I believe ALL of us need to care about.  After all, we all have loved ones who occasionally get sick.  How can we help them?
Although all the presentations were interesting, I found myself far more interested in the ones about healing the spirit, in addition to healing the body.  My favorite presentation was titled "Living With Uncertainty".
Why my favorite?  I think because this presentation addressed the person's feelings head-on.  Whether patient or care-giver, it's surprising how much healing depends on how the patient feels about their uncertain situation.
It was my favorite presentation because I find the same thing when I help people plan music for their weddings and parties.  Whatever the occasion will be — a formal banquet, a business reception, or a casual get-together — it's always the same.
When our conversations about music finally become successful, we'll be discussing their feelings about music — a favorite song, or songs associated with special memories, or ones popularized by their favorite artists, or ones with especially appropriate titles or lyrics.
So here's a tip:  when you're selecting special music for your next event, rely on your feelings about music.  They're ultimately your best guide.
{ 0 comments }