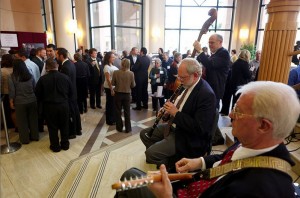 Are you planning a wedding?
Or maybe your next party?
Where will the band set up?
You don't want your guests complaining that the music was too loud or too soft.  Or the band was in the way, or too far from the dance floor.
Unless you're experienced at creating successful floor plans, you're likely to make some mistakes when you decide where to have your band set up.
Let me show you how how we avoid several common mistakes.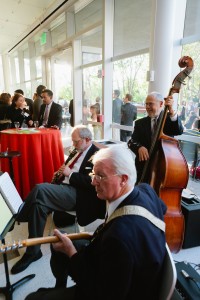 Here's the trio entertaining hundreds of guests at an elegant cocktail party, beginning last year's annual awards gala for the Second Harvest Food Bank.
We're playing in the lobby of Mountain View's Center for Performing Arts (photo above).  Recently we entertained at this year's event, in the Computer History Museum (photo at right).
Thanks to Scott McDonald for the wonderful photos.  It's just the third time we've worked with Scott, and I'm sure we'll have more to come.
These are very similar lobbies.  Large, long, open rooms with a high ceiling, marble floor, stone walls, and many floor-to-ceiling windows.  The sort of room you might find in many churches, office buildings, country clubs, and hotels these days.
A room like this often hosts a variety of special events, and always presents a challenge for the music.  Primarily because every surface in the room reflects, and echoes of every sound swirl throughout.
So how did we have the band set up, to counter this challenge?
Last year the band set up on a staircase landing, mid-way along the long wall, rather than at either end.  This allowed us to play softly, letting the music carry.  If we had the band set up at one corner, we might be too loud for the people nearby and inaudible for people toward to opposite end.
This year, at the Computer History Museum, we set up near the registration table, the bar, the appetizer table, and the dinner buffet table.  This insured that we'd be surrounded by guests, whose presence would muffle many of the echoes.
And because the band set up against a wall, away from doorways, we didn't interfere with traffic in that long room.
Occasionally we find ourselves in the opposite circumstances.  Low ceiling, carpeted floor, fabric or wallpaper on the walls, and curtains or drapes over the windows.  Acoustically dead.
One strategy we often use here is to set up the band on a riser or a stage.  Especially if there is a podium for a speaker later in the event.
We'll set up midway along the long wall if the room is rectangular.  Or occasionally in the center of the room, especially if the dance floor is located there.
And we'll reinforce our sound with one or more PA speakers.
So here's a tip for helping you plan music at YOUR event.  Wherever you have your band set up, pay attention to the room's acoustics.  If you're using a special facility, ask for professional advice from their event coordinator.  Best of all, ask your experienced musicians for their recommendations.
CLICK here to tweet this post.
Thanks for reading my blog. I appreciate your interest and hope you get a few good ideas here. Please write me a little COMMENT and continue this conversation. I'll reply to you, and so will others who share your interest. You'll make new connections.
Do you know a friend who needs help selecting wedding or party music?  Do them a favor. Please SHARE this article. Or POST in on Facebook, LinkedIn, or Google+. And if you find this blog useful, please LIKE it, TWEET it, and SUBSCRIBE for more of my thoughts.  Use those little icons below.
The Magnolia Jazz Band entertains at weddings and parties throughout the San Francisco Bay Area. If you are ever nearby, you'll love catching us in action, seeing and hearing us create a great mood.
In the meantime, please join our Magnolia Jazz Band fans on Facebook to receive daily tips for planning wedding and party music and to get reminders for our public events.
{ 0 comments }