San Francisco reception music filled my thoughts last Friday evening.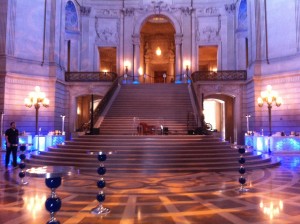 There I stood in San Francisco's magnificent City Hall rotunda, setting up the band's place on the dais.  In an hour we'd be entertaining about a hundred people attending a wonderful cocktail party.
Meanwhile, my fabulous colleagues were busy preparing, too.  Melons Catering & Events, Impact Lighting & Production, Hartmann Studios, and my friend, Jim Block, of Jim Block Photography.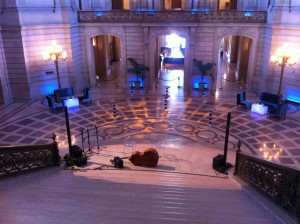 Jim and I chatted about the light and sound challenges the rotunda presents.  Which are considerable, but, as they say, the show must go on.  If he sends me a nice photo of the guests enjoying our music, I'll add it to this article.
I'm always thrilled to play in the rotunda's vaulted expanses.  So after setting up, I walked to the rotunda's entrance, turned around, and took an iPhone photo of my string bass.  Then I climbed those impressive stairs and took another photo.
Before the guests arrived, I was thinking about what San Francisco reception music we ought to prepare.
Before any event, I'm always asking the same dozen-or-so questions — whether we'll be playing San Francisco reception music, San Jose banquet music, or Livermore wedding ceremony music.  Here are a few of these questions:
Early on I ask about the purpose of this event.  What atmosphere would set the right mood to make it successful?
Another question:  What music would create that mood?
Another question:  What music would the guests enjoy hearing?
Another question:  What songs are especially well suited to the particular instruments in the band?
Soon I'll write another article about some of the other questions I ask.
What about last Friday's music?  The guests were students of a local university, meeting to attend a special presentation.  The atmosphere needed to be upbeat, informal, and conducive to casual conversations.
The room's reverberating acoustics required soft volume.  The trio (clarinet, guitar, and string bass) played essentially acoustic — very low volume, with controlled amplification to help the music carry.
We provided a wide mix of tempos, to keep the mood low-key, but bright and dynamic.  Ensembles, guitar solos, clarinet solos.  Swing, ballads, waltzes, bossa novas, early jazz, and early rock (Elvis Presley, The Beatles, Roy Orbison).
So here's a tip to help you select YOUR San Francisco reception music.  ANY celebration's music.  Before you get specific, ask broad questions about the role the music will play in your event.  The more questions, the better.
CLICK here to tweet this post and join our Magnolia Jazz Band fans on Facebook.  You'll receive daily tips for planning wedding and party music, and you'll get reminders for our public events.
{ 6 comments }