Thanks in advance for reading this article. I appreciate your interest and hope you get a few good ideas. I'd love to hear what you liked. Please write me a little COMMENT below. Start a conversation. Tell me what you think, and I'll reply. Promise.
=========================================================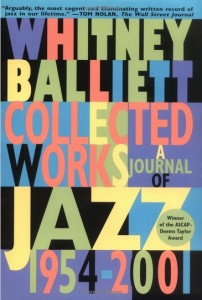 Whitney Balliett taught me the power of vivid language.  He was a wonderful writer who still has a profound effect on me.
Whitney Balliett, who died in 2007, was a journalist and ardent jazz fan.  He wrote remarkable profiles of musicians and insightful book reviews for the New Yorker magazine.
Writing for nearly 50 years, he collected many of these essays into books with evocative titles like The Sound of Surprise, Dinosaurs in the Morning, and Such Sweet Thunder.  If you admire fine writing, read them.
I began to play cornet in the fourth grade, and sometime in my junior high school years I heard a few recordings by Louis Armstrong, Sidney Bechet, Count Basie, and Duke Ellington.  I was hooked!
Suddenly I enjoyed playing like never before.  Now I was listening to jazz on the radio and on my few LPs.  I began devouring all the books, magazines, and LP liner notes that could teach me about jazz music and the people who created it.
Early in this teen-age frenzy I discovered Whitney Balliett's essays.  Here I read about my early heroes and met many new ones.
But best of all, I discovered a writer who could tell me how the music sounded.  Whitney Balliett had a deft touch for creating telling words and phrases that let me hear the music.  For example, writing about saxophonist Ben Webster:
"He would start a medium-slow blues solo very softly with a weaving five-note phrase, pause, play a high, barely audible blue note, and duck back to his opening phrase, still as soft as first sunlight. He would harden his tone slightly at the start of his next chorus, issue an annunciatory phrase, repeat it, insert a defiant tremolo. . . . His tone would grow hard, he would growl and crowd his notes, he would shake his phrases as if he had them clamped in his teeth. . . . As the years went by . . . he would close certain phrase endings by allowing his vibrato to melt into pure undulating breath—dramatically offering, before the breath expired, the ghost of his sound."
Gorgeous, and it applies directly to planning wedding and party music!
I use vivid language to "paint the picture" whenever I speak with a bride to be or an event planner.  How do they want the celebration look?
And more to the point, how do they want the celebration to SOUND?
Though it's important, of course, our conversation isn't primarily about what my band can do.  It's primarily about how she wants her event to sound.  And as we plan her music, I always remember Whitney Balliett's lesson about vivid language.
How about YOU? Whose example guides what you do today?  Tell me about it.
.
CLICK here to tweet this post, and join our Magnolia Jazz Band fans on Facebook.  You'll receive daily tips for planning wedding and party music, and you'll get reminders for our public events.
Thanks for reading this article. I appreciate your interest and hope you get a few good ideas here. Got one or two? I'd love to hear what you liked. Please write me a little COMMENT below. Start a conversation -- I'll reply. Promise.
By the way, does a friend need help selecting wedding or party music? Do them a favor: EMAIL this article, or SHARE it on Facebook, LinkedIn, or Google+.
And if you find my blog useful, please LIKE it, TWEET it, and SUBSCRIBE for more ideas. Use those cute little icons below.
Meanwhile, the Magnolia Jazz Band entertains at weddings and parties throughout the San Francisco Bay Area. If you are ever nearby, you'll love catching us in action, seeing and hearing us create a great mood.
How can I help you? Call 408-245-9120 or use Robbie@MagnoliaJazz.com. Planning a celebration? Ask about our availability.
If you like this post...