Thanks in advance for reading this article. I appreciate your interest and hope you get a few good ideas. I'd love to hear what you liked. Please write me a little COMMENT below. Start a conversation. Tell me what you think, and I'll reply. Promise.
=========================================================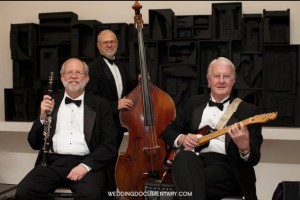 Planning wedding music is half of how I make a living.  Planning party music, too.
The other half is performing that music, and entertaining everyone at their celebrations.
I can't decide which I enjoy more — planning wedding music or performing it.  Probably performing, but it's close.
Here we are above, taking a relaxing break entertaining at a fancy cocktail party recently.  Having a good time helping the guests have a good time.  Thanks for the wonderful photos, Vijay Rakhra.
There's nothing "cookie-cutter" about helping people planning wedding music or party music.  Throughout the process, I'm daydreaming and imagining possibilities, and then checking back with their reality.  As I talk with them, their particular visions inspire my daydreams and continue feeding our plans.
Planning is great fun, and I like to frequently "toggle" our perspective between "What if…" and "What is".
I often recall one of my favorite quotations, attributed to John Lennon:
"Life is what happens to you while you're busy making other plans."
In other words, the more we focus on preparing music for the celebration, the less we appreciate what we're enjoying right now.
Let me illustrate this with a little story.
Last year, when spring sprang, I finished up my winter gardening.  Mainly pruning, weeding, planting bulbs for spring and summer, and raking up dead leaves.  All the while, I was humming Paul McCartney's lyrics:
"Doing the garden,
Digging the weeds,
Who could ask for more?"
I really enjoy this job, not only for the overall hopeful spirit of the project, but also for the wonderful feeling of working my hands in the soil.
Curious thoughts drifted through my mind as I worked.  I'm not prone to spooky thoughts, but several times I imagined some of my ancestors must have been doing exactly the same thing hundreds or thousands of years ago.  Feeling the same moist soil, seeing the same shoots and buds, smelling the same rich aromas. My reverie continued —
Did they ever wonder about THEIR ancestors working in gardens?
Did they ever imagined that I'd be thinking of THEM hundreds of years later?
What will my relatives think about ME, while they work in their gardens hundreds of years from now?
Every bulb I planted, every pruning cut I made, felt a bit more special, and I enjoyed the entire job that much more.
What's the point of this story? Simple — for everything I did in the garden, my daydreaming suggested more possibilities and provided a richer context as I continued to work.
Similarly with the people I help, thinking "outside the box" as we're planning their music can inspire surprising choices and lend greater meaning to each selection.
Day in, day out, my band helps people enjoy their weddings and parties. And day in, day out, I market the band to continue adding new engagements to our schedule.
I'm marketing in a dozen ways – including the blog you're reading right now, as well as in social media posts and in face-to-face networking.
It's like a prehistoric man might have done – waking up every morning, crawling out of the cave, and hunting for roots and berries, to keep from starving.  Watch the birds and squirrels around you, and you'll see their purposefulness in a new light.
Today, my search for new engagements is probably just as systematic, but I hope it's a lot more efficient and productive.
See how daydreaming helps me help you planning wedding music?  It helps my marketing the same way.
How about YOU?  Whatever you seek, does daydreaming help your search?
.
CLICK here to tweet this post and join our Magnolia Jazz Band fans on Facebook.  You'll receive daily tips for planning wedding and party music, and you'll get reminders for our public events.
Thanks for reading this article. I appreciate your interest and hope you get a few good ideas here. Got one or two? I'd love to hear what you liked. Please write me a little COMMENT below. Start a conversation -- I'll reply. Promise.
By the way, does a friend need help selecting wedding or party music? Do them a favor: EMAIL this article, or SHARE it on Facebook, LinkedIn, or Google+.
And if you find my blog useful, please LIKE it, TWEET it, and SUBSCRIBE for more ideas. Use those cute little icons below.
Meanwhile, the Magnolia Jazz Band entertains at weddings and parties throughout the San Francisco Bay Area. If you are ever nearby, you'll love catching us in action, seeing and hearing us create a great mood.
How can I help you? Call 408-245-9120 or use Robbie@MagnoliaJazz.com. Planning a celebration? Ask about our availability.
If you like this post...