Thanks in advance for reading this article. I appreciate your interest and hope you get a few good ideas. I'd love to hear what you liked. Please write me a little COMMENT below. Start a conversation. Tell me what you think, and I'll reply. Promise.
=========================================================
I saw it again — the magical power of music to delight people.  Actually I see it all the time —how music makes us happier at whatever we're doing.
Last year we entertained during a marvelous Easter Sunday brunch at the Hilton Newark/Fremont.  Everyone there had a wonderful time.
Everyone there came to enjoy great company, a sensational meal, and an atmosphere of lively, elegant music.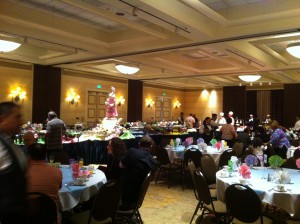 Here are Andy and Gary tuning up on the bandstand, way in the back, on the right.  It's about 30 minutes before we begin playing, and already the room is starting to fill.
We musicians wield the power of music, knowing THAT it works, but not HOW it works.
Just how music does its magic is a mystery to me.  People have always struggled to explain exactly how it happens.
I'm less concerned with the "how", as long as I can make it happen.  And that's what I do nearly every day, at weddings and parties.  I've learned how to help people select their favorite songs — ones they'll recognize and enjoy for their own personal reasons.
We musicians are like wizards, weaving spells with the mysterious power of music.  And not just wizards.  Today I'm feeling a bit like one of those health practitioners.  You know, someone who applies a few touches or administers a few "potions" to comfort you and relieve some distress.
Tomorrow I might feel instead like a poet, who inspires your grand thoughts, delicious pleasures, and wildest dreams.  In fact, a much better poet than I once observed
Musick has Charms to sooth a savage Breast,
To soften Rocks, or bend a knotted Oak.
That's English playwright and poet William Congreve, writing in 1697.  The same fellow who penned these immortal words:
Heav'n has no Rage, like Love to Hatred turn'd,
Nor Hell a Fury, like a Woman scorn'd.
But that's the subject for another day.
In the meantime, people continue trying to understand the power of music.  We create explanations based on what we THINK we know.  People seem to crave the satisfaction that explanations provide, and we take on faith everything we absolutely can't account for.
If you ask me, so much of our life is like the mysterious power of music.  It's something we recognize, but it's simply beyond our ability to understand.  Personally, I'm content just to be dazzled every time I help people enjoy music.
How about YOU?  What mysterious power do YOU deal with every day?  Can you explain it?
.
CLICK here to tweet this post and join our Magnolia Jazz Band fans on Facebook.  You'll receive daily tips for planning wedding and party music, and you'll get reminders for our public events.
Thanks for reading this article. I appreciate your interest and hope you get a few good ideas here. Got one or two? I'd love to hear what you liked. Please write me a little COMMENT below. Start a conversation -- I'll reply. Promise.
By the way, does a friend need help selecting wedding or party music? Do them a favor: EMAIL this article, or SHARE it on Facebook, LinkedIn, or Google+.
And if you find my blog useful, please LIKE it, TWEET it, and SUBSCRIBE for more ideas. Use those cute little icons below.
Meanwhile, the Magnolia Jazz Band entertains at weddings and parties throughout the San Francisco Bay Area. If you are ever nearby, you'll love catching us in action, seeing and hearing us create a great mood.
How can I help you? Call 408-245-9120 or use Robbie@MagnoliaJazz.com. Planning a celebration? Ask about our availability.
If you like this post...