Back to Basics for Weddings and Parties
Thanks in advance for reading this article. I appreciate your interest and hope you get a few good ideas. I'd love to hear what you liked. Please write me a little COMMENT below. Start a conversation. Tell me what you think, and I'll reply. Promise.
=========================================================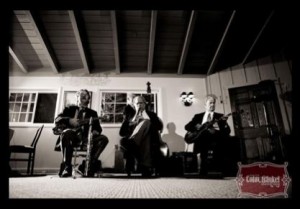 Start planning ANY project by getting back to basics.
Certainly for planning wedding and party music, and for nearly every project you tackle.  Let me explain.
First, a little background:
Here we are, all over town, entertaining at recent special events.  Beside the dance floor at a rustic wedding reception in Woodside (thanks for the photo, Lauren Cohn-Frankel), wedged into a corner for a cocktail reception aboard a yacht on San Francisco Bay (thanks for the photo, Tom Thrasher), up on a balcony for an elegant garden wedding ceremony in Carmel Valley (thanks for the photo, Anna Kuperberg), and onstage at a Roaring 20s party in Palo Alto (thanks for the photo, Joy Apple).
What's with all the variety?  Well, looking with the right perspective, there's actually very little variety.  Basically, in my opinion, a party is a party is a party.  And I'll elaborate on this in a moment.
First, let me tell you a story about the first time I learned something new.  One day long ago, the clouds covering my mind parted a bit, the sun beamed, and I understood a little more.  Life was better.  It was so exciting!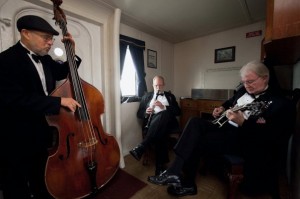 Perhaps it actually happened this way the first time.  Perhaps not.  No matter — it was good for me.  These days something like this happens all the time, because my deliberate plan is to learn something new every day.
Stay with me.  In fact, I'm thinking it would be great if everyone acted this way, even if only occasionally.  I may be wrong, but I assume people benefit from learning something new.  But my assumption may be wrong.
I actually KNOW very little, so I go through life relying on my assumptions left and right.  And I believe that every assumption I make blinds me to some issues and illuminates others.
How about you?  What do you REALLY know?  How much of whatever you do rests on maybe shaky assumptions?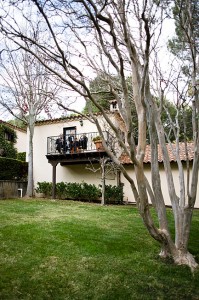 Making assumptions is a sure-fire way to make our way in an ambiguous world.  They can be a great help, but they carry a great hazard if we mistake them for "The Truth".  For instance, if you ask me a question, and I guess wrong about what you really mean, I can offer only one or two right answers but hundreds of ways I can go astray.
Where am I going with this?  Here: However you begin any project, get back to basics.  Begin at the beginning, look for what you're unsure of, and recognize what you're assuming.
I always try to recognize my assumptions, especially about my weddings and parties, so I can avoid "jumping the gun" and confidently marching off in the wrong direction.  I know I will always manage to deal with every situation well, if I can avoid trying to solve the wrong riddle.
However you make a living, you can't go wrong if you start with the fundamentals every time.  So, what's basic to every special event?  As I see it, just two things: people and an atmosphere — something to see, hear, smell, taste and feel.  These are what we plan with, anticipate, enjoy, and remember afterwards.  Everything else is details, and of course these details are what makes each event unique.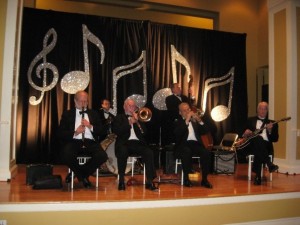 All my professional life, I've been helping people by arranging and performing the musical details.  If I've entertained at 10,000 events, there have been close to that many unique "constellations" of details.  Each in his/her own way, every event professional understands this and deals with assembling details every day.
You'll find it useful to occasionally go back to basics.  Regard your own work from the perspective of "starting with the basics and assembling details".
CLICK here to tweet this post, and join our Magnolia Jazz Band fans on Facebook.  You'll receive daily tips for planning wedding and party music, and you'll get reminders for our public events.
Thanks for reading this article. I appreciate your interest and hope you get a few good ideas here. Got one or two? I'd love to hear what you liked. Please write me a little COMMENT below. Start a conversation -- I'll reply. Promise.
By the way, does a friend need help selecting wedding or party music? Do them a favor: EMAIL this article, or SHARE it on Facebook, LinkedIn, or Google+.
And if you find my blog useful, please LIKE it, TWEET it, and SUBSCRIBE for more ideas. Use those cute little icons below.
Meanwhile, the Magnolia Jazz Band entertains at weddings and parties throughout the San Francisco Bay Area. If you are ever nearby, you'll love catching us in action, seeing and hearing us create a great mood.
How can I help you? Call 408-245-9120 or use Robbie@MagnoliaJazz.com. Planning a celebration? Ask about our availability.
Categories: Planning Party Music