European history has always fascinated me.  I enjoy reading any history, really, for the insight is gives me into why people do what they do.
Why European history?  Coincidence.  My grandparents emigrated from central Europe, so all my young years I'd hear more about European history than, say, African or Asian history.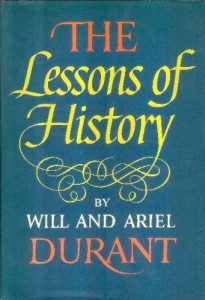 Will Durant is a historian I especially enjoy reading.  His 1968 book, The Lessons of History, is one of my favorites.  In 117 broad but incisive pages, he surveys thirteen general topics over the range of recorded history — topics like biology, religion, morals, economics and government.
He begins his essay about warfare by suggesting that war is one of the constants of history.  "In the last 3,421 years of recorded history only 268 have seen no war."  Then he goes on to discuss what warfare accomplishes and whether it is really necessary and inevitable.
Yet while suggesting war is a constant, Durant sees civilization always changing throughout history — sometimes quickly, sometimes slowly.  People seem to act and respond with over-reactions, so history progresses through recurring sequences of events and conditions.
We can see hundreds of examples wherever we look.  For instance, one generation's strict ethical conduct will be followed by another favoring moral "looseness", only to be followed by another returning to puritanical attitudes.
I'm not a trained historian, but I'm sure that studying the history of any era, in any region, will teach the same lessons about human nature.  Over the years, I've learned many lessons.  Let me tell you one, about wedding and party music.
Popular styles come and go.  Look at fashions in clothing, automobile styles, architecture, and food.  Same with music.  People have their favorites — some like what's popular today, other's prefer what was popular in previous generations.
At weddings or parties these days, you can hear music from Lady Gaga, Stevie Wonder, The Beach Boys, Doris Day, Bing Crosby, Al Jolson, Scott Joplin, John Philip Sousa, Richard Wagner, Beethoven, Mozart, Bach, or Pachelbel.  See the sweep of styles?
Most parties will concentrate on one or two of these.  Sometimes more.  But I've learned that whatever styles people prefer, the music at their parties will help them enjoy the celebrations.  Whatever it is, the right music makes people feel good.
So when I help people plan music for their celebrations, I begin by asking about the mood they want and about their favorite musical styles.
YOUR turn.  What does European history teach YOU?
Thanks for reading my blog. I appreciate your interest and hope you get a few good ideas here. Please comment and continue this conversation. I'll reply to you, and so will others who share your interest. You'll make new connections.
If you find this blog useful, here are four things you can do:
• "COMMENT" (Tell me your thoughts in the "Comment" box below),
• "LIKE" this post (Click the "+1" and "Like" buttons). Give me your vote,
• "SHARE" (Tell your friends by Email or post on Google+, Facebook, Twitter),
• "SUBSCRIBE" to this blog for more of my thoughts (Click the "RSS").
The Magnolia Jazz Band entertains at weddings and parties throughout the San Francisco Bay Area. If you are nearby, you'll love catching us in action, seeing and hearing us create a great mood. In the meantime, please join our Magnolia Jazz Band fans on Facebook to receive daily tips for planning wedding and party music and to receive reminders for our public events.
If you like this post...