Thanks in advance for reading this article. I appreciate your interest and hope you get a few good ideas. Please write me a little COMMENT below. Start a conversation. Tell me what you think, and I'll reply. Promise.
=========================================================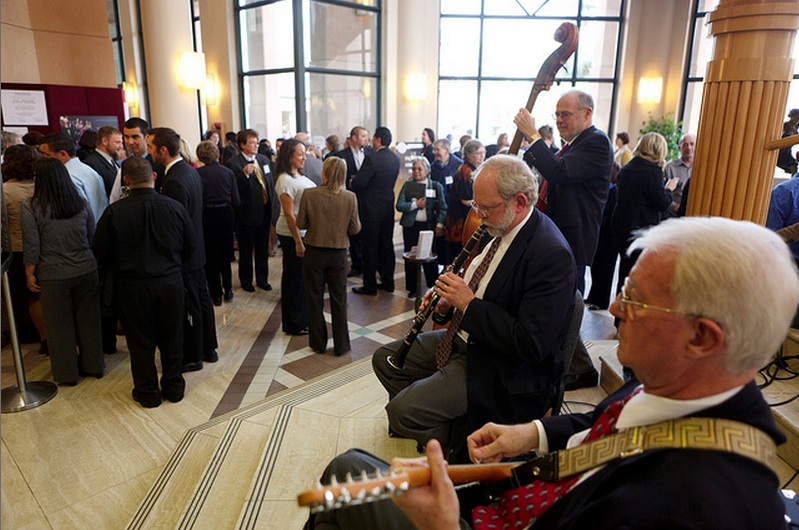 I make a living playing in the band entertaining at weddings and parties.  Thanks to my friend Scott MacDonald, for this photo of us at a recent reception.
For inspiration, I love browsing wedding blogs.  Lots of them.  But they all disappoint me.
Now don't get me wrong.  They're gorgeous to look at.
Reading them provides endless inspiration to anyone involved with a wedding.  Ideas for photography, decor, attire, flowers, invitations, catering, make-up, and so much more.
Several of my favorite wedding blogs are StyleMePretty, GreenWeddingShoes, WeddingChicks, and Junebug Weddings.  These, and hundreds more, are active every day on Pinterest, Facebook, and Twitter.
If you or a friend are involved with a wedding, please visit a few of these wedding blogs and tell me if you sense that something is missing.
"Sense" is the clue here.  We have five of them, you know, and these blogs focus almost exclusively on sight.  What about sound, smell, taste, and touch?
Granted, it's a challenge to capture those qualities in a photo, no matter how sensational it is.  The accompanying text might be more effective, though.  But I seldom read about more than the barest mention, if that.
Here's why I care enough to mention this.  From my position in the band, I always see and hear that the music DOES make a difference.  While the photos show the glamorous look of a wedding reception, the music maintains the "pulse" of the event.
If we can't sense this, we can't appreciate what it's like to be a guest there.  And without a sense of the mood, we have a hard time selecting the music to entertain the guests.
In my blog I recently recommended that we use vivid language in our writing.  More of this could really help all these wedding blogs capture the wonderful atmosphere of the weddings they feature.
Please understand, I think all these blogs are sensational.  But think of how much more inspiring they could be.
How about YOU?  Do you follow any wedding blogs?  Where else do you look for inspiration?  Is vivid writing helpful there?
.
CLICK here to tweet this post and join our Magnolia Jazz Band fans on Facebook.  You'll receive daily tips for planning wedding and party music, and you'll get reminders for our public events.
Thanks for reading this article. I appreciate your interest and hope you get a few good ideas here. Write me a COMMENT below. Start a conversation -- I'll reply.
Does a friend need help selecting wedding or party music? Do them a favor: EMAIL this article, or SHARE it on Facebook, LinkedIn, or Google+.
And if you find my blog useful, please LIKE it, TWEET it, and SUBSCRIBE for more ideas. Use those cute little icons below.
Meanwhile, the Magnolia Jazz Band entertains at weddings and parties throughout the San Francisco Bay Area. If you are ever nearby, you'll love catching us in action, seeing and hearing us create a great mood.
How can I help you? Call 408-245-9120 or use Robbie@MagnoliaJazz.com. Planning a celebration? Ask about our availability.
If you like this post...