Thanks in advance for reading this article. I appreciate your interest and hope you get a few good ideas. Please write me a little COMMENT below. Start a conversation. Tell me what you think, and I'll reply. Promise.
=========================================================
Hold your jets!  What parety?  And what space colony?
I'm thinking about one BUSY weekend a few summers ago.  At one of the highlights, we entertained at the Gala dinner party for the annual NewSpace Conference, in Santa Clara.
Sponsored by the Space Frontier Foundation, this conference attracted scientists, visionaries, technologists, entrepreneurs, and businessmen from around the world — in fact, everyone interested in promoting private, commercial exploration of space.
THAT space colony.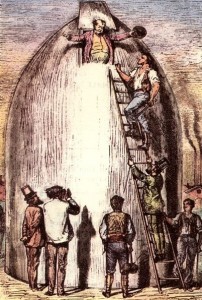 Until recent years, only science fiction dreamers could imagine a space colony.  This picture appeared in one of the earliest sci-fi books, Jules Verne's 1865 fantasy novel From the Earth to the Moon.
Since then, more books, radio, comics, films, and TV have brought us to today's perspective.  Now the experts are predicting that space exploration will bring greater influence on our world than the creation of the internet.
In fact, they're saying that "Space settlement is no longer a dream, it is an industry."
This was our third year entertaining at the Gala, and it was interesting as always.  Especially in the party music we selected.
At every cocktail party we perform at, guests typically request a few of their favorite songs.  We're always ready for whatever comes along, and more!
If YOU were a musician, what old standards would you prepare for all those "space nerds" attending?  As in recent years, our party music list included these and more.
Fly Me to the Moon
Stardust
Moonlight in Vermont
The Sunny Side of the Street
Out of Nowhere
Moonlight Serenade
Stars Fell on Alabama
Moon River
How High the Moon?
Over the Rainbow
Blue Moon
Stairway to the Stars
Blue Skies
Gone With the Wind
Come Fly With Me
When You Wish Upon a Star
East of the Sun
I've Got the World on a String
It's Only a Paper Moon
Moon Over Miami
YOUR turn.   What songs would you like for YOUR space colony?
.
CLICK here to tweet this post and join our Magnolia Jazz Band fans on Facebook.  You'll receive daily tips for planning wedding and party music, and you'll get reminders for our public events.
Thanks for reading this article. I appreciate your interest and hope you get a few good ideas here. Write me a COMMENT below. Start a conversation -- I'll reply.
Does a friend need help selecting wedding or party music? Do them a favor: EMAIL this article, or SHARE it on Facebook, LinkedIn, or Google+.
And if you find my blog useful, please LIKE it, TWEET it, and SUBSCRIBE for more ideas. Use those cute little icons below.
Meanwhile, the Magnolia Jazz Band entertains at weddings and parties throughout the San Francisco Bay Area. If you are ever nearby, you'll love catching us in action, seeing and hearing us create a great mood.
How can I help you? Call 408-245-9120 or use Robbie@MagnoliaJazz.com. Planning a celebration? Ask about our availability.
If you like this post...