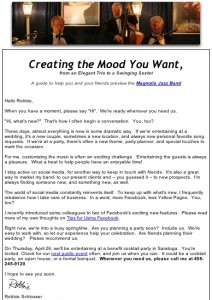 My weekly newsletter helps me market the band efficiently.  It keeps me in touch with friends, colleagues, previous clients, and prospects.
It's content is simple.  I select one of my recent blog posts, comment on it or look at it in a different way, and I announce our next public appearance.  This picture is part of the weekly newsletter from last week.
Short, sweet, and informative.
Since 2008, I've been blogging about my life.  Entertaining at weddings and parties, what it's like leading a jazz band, the music we play, and some of my favorite colleagues, clients, and celebrations.  The weekly newsletter always presents some (hopefully) new and interesting news.
The band has been entertaining people for over 37 years now.  That's lots of parties, lots of colleagues, and lots of clients.  I've been emailing this weekly newsletter to every one of them (unless they've unsubscribed), and visitors to our website can subscribe right there, with just one click.
What's this weekly newsletter's purpose?  I'm trying to attract people to visit my website regularly, not to buy my merchandise or online services, but to call and reserve us to entertain at their next special celebration.  Or to recommend us to their friends and clients.  I want to stay on people's minds, and emailing my weekly newsletter accomplishes this, as does all my activity on social media.
The weekly newsletter is a guaranteed conversation opener, as are posts on my blog, Facebook, Twitter, Pinterest, YouTube, Google+, and LinkedIn.  People regularly thank me for sending this brief weekly newsletter, and as long as it brings them to my website, it's serving it's purpose well.
How about YOU?  Are you sending a weekly newsletter, too?  How is it working?
Thanks for reading my blog. I appreciate your interest and hope you get a few good ideas here. Please comment and continue this conversation. I'll reply to you, and so will others who share your interest. You'll make new connections.
Here are four things you can do:
• "COMMENT" (Tell me your thoughts in the "Comment" box below),
• "LIKE" this post (Click the "+1" and "Like" buttons). Give me your vote,
• "SHARE" (Tell your friends by Email or post on Google+, Facebook, Twitter),
• "SUBSCRIBE" to this blog for more of my thoughts (Click the "RSS").
The Magnolia Jazz Band entertains at weddings and parties throughout the San Francisco Bay Area. If you are nearby, you'll love catching us in action, seeing and hearing us create a great mood. In the meantime, please join our Facebook fans to receive daily tips for planning wedding and party music and to receive reminders for our public events.
If you like this post...