Thanks in advance for reading this article. I appreciate your interest and hope you get a few good ideas. Please write me a little COMMENT below. Start a conversation. Tell me what you think, and I'll reply. Promise.
=========================================================
Great Gatsby Party  — it conjures up the sights and sounds of the Roaring 20s, the Jazz Age, Flappers, Art Deco, Speakeasies, and Vintage everything!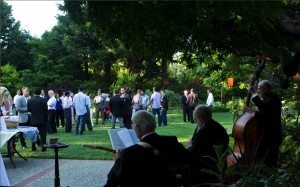 For the last 15 or so years, we've been entertaining at a wonderful annual Great Gatsby Party in Atherton, CA.  Thank you to Kyle Chesser, of Hands On Photography, for the beautiful photo at one of these recent parties.  If you like this picture,
As you can see, this one was a pretty casual affair, as these events tend to go.  No Charleston contests, 1920s fashion shows, or gangster raids.  Instead, a strictly low-key cocktail party, hosted by a major venture capital firm that invited about 80 of the busiest "movers and shakers" in Silicon Valley to socialize with their colleagues.
Everyone enjoyed a wonderful evening in a gorgeous prize-winning garden.  Wine, appetizers, a spectacular dinner, and our music kept spirits high and conversations flowing.
At any Great Gatsby Party we customarily confine our music to hits of the 1920s (Irving Berlin, George Gershwin, Duke Ellington, Louis Armstrong, and all the rest).  So at a "theme party" like this, it's an easy matter to plan what songs to prepare, as well as when and where to feature the band.
This Great Gatsby Party was more casual than most, and we included several bossa novas, tangos, and waltzes.  We even played a few requested Beatles tunes.
This elegant party has always been a major auction prize at the annual Vintage Affaire, a spectacular event benefiting the Vista Center (formerly the Peninsula Center for the Blind).
All the ladies serving the party's guests volunteer their time and energy, and you could tell they enjoyed the party just as much as their guests did.  Everyone enjoyed our music, so we had a wonderful time, as well.
How about YOU? Have you ever hosted a Great Gatsby Party?  How did you plan the party's music?
.
CLICK here to tweet this post, and join our Magnolia Jazz Band fans on Facebook.  You'll receive daily tips for planning wedding and party music, and you'll get reminders for our public events.
Thanks for reading this article. I appreciate your interest and hope you get a few good ideas here. Write me a COMMENT below. Start a conversation -- I'll reply.
Does a friend need help selecting wedding or party music? Do them a favor: EMAIL this article, or SHARE it on Facebook, LinkedIn, or Google+.
And if you find my blog useful, please LIKE it, TWEET it, and SUBSCRIBE for more ideas. Use those cute little icons below.
Meanwhile, the Magnolia Jazz Band entertains at weddings and parties throughout the San Francisco Bay Area. If you are ever nearby, you'll love catching us in action, seeing and hearing us create a great mood.
How can I help you? Call 408-245-9120 or use Robbie@MagnoliaJazz.com. Planning a celebration? Ask about our availability.
If you like this post...