Whenever we seek ideas for planning party or wedding music, we'll need MANY more ideas than we ultimately use.
This is true for planning practically anything.  The reason:  Most of our ideas for planning will be "helpers", inspiring whatever we'll finally select.
The challenge:  Opening the floodgates, so to speak, to release a torrent of these "helpers".
That's easy, really.  Lots of techniques are available (brainstorming, asking experts, reading widely, examining successful examples, and MANY others) and lots of people to help us use them.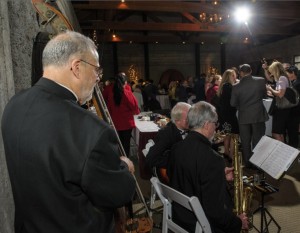 Nearly every day I help people planning party or wedding music.  For example, each year we entertain at the annual awards reception for the Silicon Valley Concierge Association, and we're always looking to add a new idea to the familiar pattern.  Thanks to Rudy Pollak, for your wonderful photos.  This photo was taken at our fifth year with this group.
I'm always on the lookout for a fresh supply of these "helper" ideas for planning.  I always read a lot and listen to many pros in a wide variety of fields.
For example, I recently listened to a webinar by Michelle Shaeffer, a well-known expert on creating and promoting blogs.  To help her students select subjects for their blogs, she recommended dozens of tips and resources.
I'm sure many of these suggestions will help anyone searching for ideas about anything, not just blogging, and I'll be using them as I seek ideas for planning wedding or party music.
For planning music, I'm always reading and listening for new ideas.  How about YOU?  How do you look for ideas for planning?
.
CLICK here to tweet this post and join our Magnolia Jazz Band fans on Facebook.  You'll receive daily tips for planning wedding and party music, and you'll get reminders for our public events.
How can I help you? Ask about our availability. Call 408-245-9120 or use Robbie@MagnoliaJazz.com.
The Magnolia Jazz Band entertains at weddings and parties throughout the San Francisco Bay Area. If you are ever nearby, you'll love catching us in action, seeing and hearing us create a great mood.
Thanks for reading this article. I appreciate your interest and hope you get a few good ideas here. Write me a little COMMENT. Start a conversation, and I'll reply.
Do you know a friend who needs help selecting wedding or party music? Please do them a favor: SHARE this article.
Or POST in on Facebook, LinkedIn, or Google+. And if you find my blog useful, please LIKE it, TWEET it, and SUBSCRIBE for more ideas. Use those cute little icons below.
If you like this post...