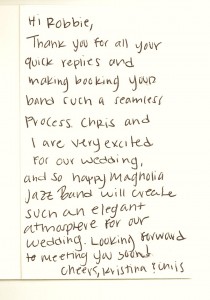 Learning how to get a client is easy, really.  Maybe too easy.  So many new businesses never manage to figure it out — perhaps they're expecting something very complex.
How do I learn how to get a client?  Simple — I listen to them.  Especially when they send wonderful notes like this.  Click to enlarge it.
Nowadays, many people are self-employed, like me.  Anyone (especially the newly self-employed) starting a business needs the right attitude and skills, a solid plan, reliable resources, and lots of good luck.  Especially the last.
Do you manage a successful business?  Congratulations!
I've been a self-employed musician since 1975.  I help people with music at weddings and parties, and it's always fun and rewarding for me, my colleagues, and our clients.  Believe me, once I started learning the ropes, I realized that knowing how to get a client isn't rocket science.  It requires just two things.
First, careful attention to details.  And second, the skills and attitude for delivering perfect service, first time, every time.
Actually, my clients tell me what perfect service includes.  For example, with these significant words — "quick replies", "seamless process", and "very excited" — this note teaches me a few tips.  Whenever someone talks with me about music for their wedding or party, I'm careful to:
1.  Reply quickly.  Promptly and completely.  I answer all their questions directly and offer helpful suggestions.
2.  Make it Seamless.  I make doing business smooth and hassle-free.  I always make the next step easy and clear.  And I avoid creating obstacles and delays.
3.  Create Excitement.  From the very start, my clients are thrilled, expecting their event will be sensational.  Before, during, and afterward, they come to expect their party will be everything they hope for, and more.
You can find lots of tips for how to get a client.  These three may not always be the MOST important tips, but I'll rank them near the top any day.  Are YOU doing all three?
YOUR turn.  Have you learned how to get a client?  Got another tip?
Thanks for reading my blog. I appreciate your interest and hope you get a few good ideas here. Please comment and continue this conversation. I'll reply to you, and so will others who share your interest. You'll make new connections.
If you find this blog useful, here are four things you can do:
• "COMMENT" (Tell me your thoughts in the "Comment" box below),
• "LIKE" this post (Click the "+1" and "Like" buttons). Give me your vote,
• "SHARE" (Tell your friends by Email or post on Google+, Facebook, Twitter),
• "SUBSCRIBE" to this blog for more of my thoughts (Click the "RSS").
The Magnolia Jazz Band entertains at weddings and parties throughout the San Francisco Bay Area. If you are nearby, you'll love catching us in action, seeing and hearing us create a great mood. In the meantime, please join our Magnolia Jazz Band fans on Facebook to receive daily tips for planning wedding and party music and to receive reminders for our public events.
If you like this post...