Thanks in advance for reading this article. I appreciate your interest and hope you get a few good ideas. Please write me a little COMMENT below. Start a conversation. Tell me what you think, and I'll reply. Promise.
=========================================================
What will you celebrate today?  I hope it's memorable.  Will you include music?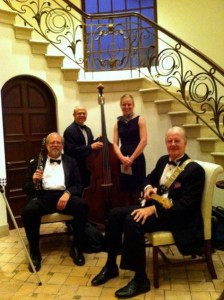 Our music helps people celebrate.  For example, here we are, back in October 2011, helping the San Francisco Junior League celebrate their annual Home Tour Preview Gala.  That was a spectacular evening for hundreds of guests, and it was an honor to add our music to the excitement.
More about celebrating.  On her birthday, a friend recently posted on Facebook:
"THANK YOU one and all for the Bday luv.   I'm a firm believer in the idea that the older you get the more you should celebrate, so thanks so much for adding your voices to my day of CELEBRATION!"
Great idea, I thought, so I replied: "Agreed, Lisa! The older you get, the more you have that's worth celebrating."
I could have added that music always seems to help people celebrate.  More about that in a minute.
According to the dictionary, to "celebrate" means to do something special or enjoyable for an important event, occasion, holiday, etc.  And as far as I know, EVERYONE's life is an endless parade of these important events, occasions, holidays, etc.
For people and for organizations, there will always be another notable event to celebrate.  At the very least we ought to help the festivities, and more is usually better.
That pretty much sums up my attitude. So I help people celebrate!  What a wonderful way to go through life!
Dunno if I'd go so far as saying this is my "calling", but it focuses how I do what I do.
Every time we entertain somewhere, our music creates the right atmosphere, helping bring everyone into the festive mood.  The music can be the center of attention, like at a concert, or part of the decor, like at a business reception.  Or the music can be part of a surprise!
Whatever the event celebrates, the addition of living, breathing musicians in action raises the level of excitement a notch higher. Because the guests feel this extra energy, they get into the swing of things even more easily. Whatever they're doing becomes easier, more enjoyable, and they have a wonderful time.
So here's a tip:  When you plan your next celebration, be sure to include music.  Choose well, of course, and more is usually better.
CLICK here to tweet this post, and join our Magnolia Jazz Band fans on Facebook.  You'll receive daily tips for planning wedding and party music, and you'll get reminders for our public events.
Thanks for reading this article. I appreciate your interest and hope you get a few good ideas here. Write me a COMMENT below. Start a conversation -- I'll reply.
Does a friend need help selecting wedding or party music? Do them a favor: EMAIL this article, or SHARE it on Facebook, LinkedIn, or Google+.
And if you find my blog useful, please LIKE it, TWEET it, and SUBSCRIBE for more ideas. Use those cute little icons below.
Meanwhile, the Magnolia Jazz Band entertains at weddings and parties throughout the San Francisco Bay Area. If you are ever nearby, you'll love catching us in action, seeing and hearing us create a great mood.
How can I help you? Call 408-245-9120 or use Robbie@MagnoliaJazz.com. Planning a celebration? Ask about our availability.
If you like this post...